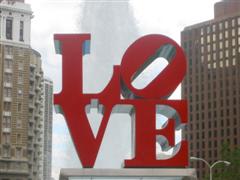 EI is grateful to announce our annual conference to be held in Philadelphia, October 23-26, 2008.  Our Theme is ABUNDANZA (Abundance).  The following are the details and we will be adding information on a regular basis throughout the next three months.  Also.  With the recent surge in airline ticket prices, it might be wise to make you reservations early as it seems that each day the airline increase their prices and add additional fees. But do shop and the sooner the better. 
The following are the details:
Where: The Embassy Suites Philadelphia Airport Hotel
When: Thursday-Sunday, October 23-26, 2008
Cost: Those of you who've already enjoyed their spacious guest rooms and free made-to-order breakfasts, know what a great value you'll get at the Embassy Suites.  We've been given a special conference rate of just $129 a night for single or double occupancy. Triples cost just $139 and quads, $149 (plus a 14% room tax). Considering the fact that full breakfasts are included for every guest and the hotel just completed an $11 million stem-to-stern renovation, this really is a lot of "bang for the buck." And too, those special rates are good for up to three days before and three days after the conference. There is even a free shuttle bus to ferry you between the airport and the hotel.
Reservations: The hotel's direct line for reservations is (215)365-4500 and every guest is responsible for making his or her own arrangements. Remember to tell them that  you'll be attending the E.I. Conference. And please call them before 9/23/08 to be guaranteed the Special Rate.
The registration fee is $199.00 and includes three days of meals, entertainment, and speaker/workshops as well as our Keynote, Laura Matthews, C.S. . Please visit the Emergence website for more information as it becomes available.
See you all in the City of Brotherly/Sisterly Love in October!
EI Conference Committee