I make strong demands on love, call for active witnesses to prove it, and noble sacrifices and grand achievements as its results. Unless these appear, I cast aside the word as a sham and counterfeit, having no ring of the true metal. Love cannot be a mere abstraction, or goodness without activity and power.
Mary Baker Eddy

Americans who thwarted train shooter boost US military reputation in Europe (+video)
While the three Americans, two military and one civilian, who tackled a suspected terrorist on a European train are being heralded for heroism, Europe's view of the US military is already more positive than many think.
"This Legion of Honor is representative of your courage and also your incredible act of humanity … to save those also on the train," said President Hollande, to the khaki-clad childhood friends, Alek Skarlatos, Spencer Stone, and Anthony Sadler, who saw a suspected terrorist begin what leaders believe was intended as a rampage, and rushed in to stop it, along with Briton Chris Norman.
The gunman, who was born in Morocco and denies terrorist intent, entered the Thalys train at a stop in Brussels. Once on the train, he went into a bathroom and emerged wielding weapons, first overpowering a French passenger who tried to stop him. The two Americans, followed by their other lifelong friend, college student Anthony Sandler, and with the help of Mr. Norman, tackled and subdued the gunman. "When most of us would run away, Spencer, Alek, and Anthony ran into the line of fire, saying 'Let's go.' Those words changed the fate of many," US Ambassador Jane Hartley said Sunday night.
And while they've seemed almost shy in press conferences, downplaying the heroic actions assigned to them, they hope to impart their "Let's go" instinct, one that echoes the words, "Let's roll," spoken by the airplane passengers on United Flight 93 who attempted to overpower the 9/11 terrorists.
Sadler said Sunday that when he saw his friends charge forward his instinct was: "Do something."
"Hiding, or sitting back, is not going to accomplish anything," he said. "And the gunman would've been successful if my friend Spencer had not gotten up. So I just want that lesson to be learned going forward, in times of, like, terror like that, please do something. Don't just stand by and watch."
Americans who thwarted train shooter boost US military reputation in Europe (+video)
*Photos and video shown today not part of the original CSMonitor article linked above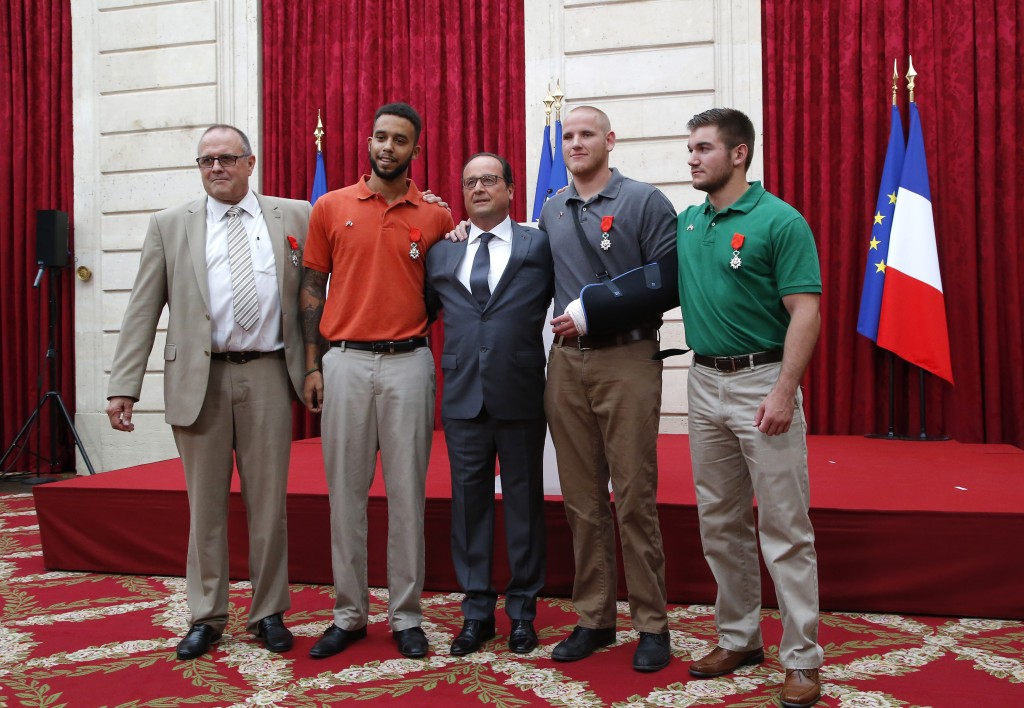 French President Francois Hollande, center, with British businessman Chris Norman, left, U.S. student Anthony Sadler, U.S. Airman First Class Spencer Stone and U.S. National Guardsman Alek Skarlatos during a ceremony at the Elysee Palace in Paris Monday. Photo by Michel Euler/Pool
Heroes of French train shooting
Spencer Stone, an off-duty US airman, ran 10 metres to hold gunman Ayoub El-Khazzan in a chokehold, even while he was stabbed with a box cutter
Aleks Skarlatos, 22, a member of Oregon's National Guard, ran to the gunman with Stone and grabbed the weapons out of his hands
Anthony Sadler, a 23-year-old student and friend of Stone and Skarlatos, jumped into action when the gunman appeared and filmed the aftermath
Mark Moogalian, a 51-year-old American-born professor was shot in the neck when he wrestled the Kalashnikov assault rifle from the gunman
Chris Norman, 62, a British IT consultant and grandfather, said he was convinced he would be shot when he got involved: "I'd rather die being active, trying to get him down"
The 28-year-old French banker known only as "Damien A" was the first person to tackle the gunman, but does not want to be named