Extremist Suspected Of Jerusalem Gay Pride Attack Appears In Court
The suspect was convicted of a similar attack that wounded several people at a gay pride parade in 2005.
Posted: 07/31/2015 11:00 AM EDT
 | 
Edited: 07/31/2015 12:08 PM EDT
TEL AVIV, Israel (AP) — An anti-gay ultra-Orthodox extremist suspected of stabbing revelers at Jerusalem's Gay Pride Parade appeared in court on Friday and the judge ordered that he remain in custody.
The suspected attacker, Yishai Schlissel, was arrested at the pride parade the previous day, after he brandished a knife and stabbed six people. The court extended his arrest by 12 days as the investigation against him continues, police spokeswoman Luba Samri said.
Israeli hospital officials said Friday that a 16-year-old girl remained in critical condition after the attack, with wounds to her chest and shoulder. Three others are in hospital but their conditions are not life threatening, while the remaining two have been discharged, hospital officials said.
http://www.huffingtonpost.com/entry/jerusalem-gay-pride-attack Extremist Suspected Of Jerusalem Gay Pride Attack Appears In Court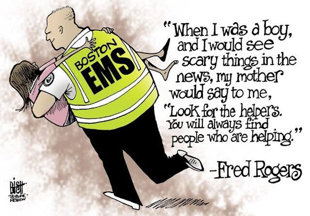 SENTINEL WATCH
Pause to remember, move toward freedom
From the September 8, 2003 issue of the Christian Science Sentinel
I can't remember now the issues that divided our hometown a few years ago, but that plea to pray for peace in Jerusalem came to my wife and me as an imperative to make a silent contribution toward peacemaking. We can't always see the immediate impact of prayer, or measure it, but I'm convinced that only God's transforming influence can change the thinking that divides and incites. And sectarian violence isn't confined to global flashpoints where major religious groups are in conflict. It exists wherever people allow themselves to be divided into feuding camps and clans.
It requires a person's consent to see others as "the Other." What is the fatal attraction to otherness—to hatred of those who are different? How are strong feelings about identity and deeply held religious or ideological beliefs manipulated to trigger violent acts? A century before scientists researched the nocebo effect—the phenomenon of negative, fearful thoughts causing harm—Mary Baker Eddy investigated mental evil, or "animal magnetism," as she termed it. She saw that those who do not defend themselves spiritually against evil motives can be harmed or made to harm others, solely by mental means.
For what are essentially mind-wars, the essential defense must be mental. The divine Mind disarms and destroys evil intentions. Ultimately, evil will be found to be finite, empty, ugly, a dead end. Good is, like its sacred source, infinite, substantial, compellingly beautiful, life-giving. That's the message of the Christ.
This week, and in weeks to come, may the awakening, hate-dissolving love of God comfort and move us all.