The Christian Science Monitor: An Evolving Experiment in Journalism.
Overview
The Christian Science Monitor is one of the world's leading journalistic publications, having won multiple Pulitzer prizes for its reporting. CSM is innovative and forward-thinking as well—it was one of the first newspapers to provide an online copy of its daily reporting in 1996, well before the popularization of the Internet. But just like other publications, The Christian Science Monitorwill need to continue to reinvent itself in order to stay relevant and solvent in the face of plummeting readership numbers, corporate takeovers, and a widespread assumption that all of today's news sources are biased and inaccurate.
This book provides a thorough discussion of CSM's treatment of sensitive topics like terrorism, international crises, gender issues, and sexual orientation. The paper's attitudes toward ethnicity, ethics, economics, philosophy, and racism are also profiled. The conclusion provides readers with an opportunity to draw upon their new knowledge of The Christian Science Monitor's past to project its direction for the future.
http://www.barnesandnoble.com/w/christian-science-monitor-lindak-fuller/1102964828?ean=9780313379949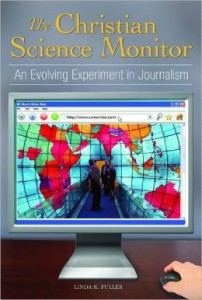 The Christian Science Monitor
by Linda K. Fuller
Praeger  2011
This is not a book review.
There is significant information in the free pages of this book on the Barnes & Noble web-site www.bn.com.
Ms. Fuller has a passionate love for the Monitor and she wrote her book in full collaboration with Monitor personnel.
". . . [T]his book could never have been written without the unconditional support of editor John Yemma.  He enthusiastically accepted my proposal, facilitated it such that I could attend production meetings and kept an open door and open mind . . . Most amazing, though, has been his willingness to review what I have written; his feedback has been invaluable."
Of more interest, perhaps, to most of you is the section, "Gender Orientation", (chapter 4, pages 110 -112).  Here are salient quotations from that section:
"It struck me that after having monitored the Monitor for so long, I'd hardly seen the work 'homosexuality', never mind 'gay' or 'lesbian' and certainly not 'bisexual'; so it came as a pleasant surprise to find the Christian Science Monitor providing some of the best, unbiased reportage on issues such as gay bishops, gay marriages, and even gay rights (Fuller 2004b).
"In response to my query on their stance, this is what a representative wrote me:  'The First Church of Christ, Scientist', takes no official position on homosexuality or other social or personal issues.  Everyone is encouraged to find their own perspective on these issues through their own spiritual searching and discovery.' (e-mail 9/29/03). Why had CSM's gay-related reportage been so limited, then? Even openly gays like Barney Frank, Marina Navratilova, or Melissa Etheridge were cited without the moniker so many other media consider necessary.  Christian Science practitioners with whom I have discussed homosexuality have called it everything from a disease to a tragedy to a moral lapse.  Other practitioners, none being 'official' voices of the church –especially younger members–have a more modern view.  In this, Christian Scientists mirror the range of attitudes in American Society, which recently has evolved from disapproval to acceptance of members of the gay community and concern for their civil rights. . . .
"Stepping back from this reportage, it is important to note that this religious newspaper has tackled LGBT subjects at all.  As we stand in such diverse times, it behooves us to follow issues relative to the separation of church and state.  Gay clergy as an issue forces followers to come to terms with their compassion.  Gay marriage, 'the most contentious issue to fact the country since abortion.' (Lampman 11/21/03, 13), brings to the fore our definitions of marriage . . .  as well as our determinations of religious liberties (Lampman 3/1/04) . . .
"Let me also share a bit of the results of what happened during this research. Plugging in 'Christian Science' and 'homosexuality' gave 249,000 hits on Google; then searching with 'gay' (1,840,000 hits!) not only yielded good material:  I got a cookie.  It turns out there is a group of gay, lesbian,bisexual and transgender Christian Scientists who have formed a group called Emergence International (EI), founded in 1979 [Correction.  It was 1985]. Walter [Farrell] of EI publications invited my participation. Best of all, he alerted me to their monthly newsletter, where I learned about their conferences and Bruce Stores' CHRISTIAN SCIENCE: Its Encounter with Lesbian/Gay America. . . ."
There is much in its contents to interest Christian Scientists, as well as Monitor readers both gay and straight.
by Bruce Stores
01/26/2015
Member, Board of Directors – Emergence International
The Human Rights Campaign, which late last year launched the "All God's Children" ad campaign, is continuing its efforts to reach religious communities with a new resource guide for Christian congregations.
"'A Christian Conversation Guide: Creating Safe and Inclusive Spaces for People who are LGBT' … provides practical suggestions for building safe and inclusive faith communities and congregations," according to the HRC website.
The guide includes suggested steps "on the journey to inclusion," advice for holding small group discussions about LGBT inclusion, and other resources. It can be downloaded from the HRC website.