Justice waits, and is used to waiting; and right wins the everlasting victory.
Mary Baker Eddy
(Miscellaneous Writings 1883–1896, p. 277)
*
Be the change that you wish to see in the world.
*
Four Marriage Bans Upheld; Next Stop Supreme Court?
NOVEMBER 06 2014 5:03 PM ET 
UPDATED:

 NOVEMBER 06 2014 10:46 PM ET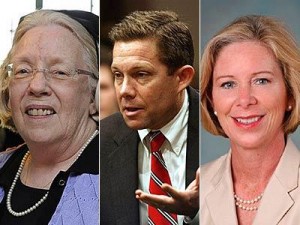 From left: Sixth Circuit Judges Martha Craig Daughtrey, Jeffrey S. Sutton, and Deborah Cook
A federal appeals court just became the first in the country to rule against marriage equality — significantly increasing the likelihood that the Supreme Court will hear a marriage case in the near future.
The Sixth Circuit Court of Appeals, located in Cincinnati, delivered its ruling Thursday afternoon, breaking with overwhelming legal precedent and declaring that marriage bans in Michigan, Kentucky, Ohio, and Tennessee are constitutional. The decision can — and likely will — be appealed, either to a larger panel of judges on the Sixth Circuit, or directly to the U.S. Supreme Court.
The 2-1 decision saw Judges Jeffrey Sutton and Deborah Cook uphold marriage bans in each of the four states, issuing a single ruling for all six cases out of those states. Judge Martha Craig Daughtrey, who had seemed skeptical that such bans could pass constitutional muster during the October hearing on the cases, dissented.
Today's decision marks the first time in more than a year — since the Supreme Court's pro-equality rulings in Windsor v. U.S. and Hollingsworth v. Perry — that any federal appellate court has upheld a state's voter-approved ban on same-sex marriage. Since those landmark decisions in June 2013, 48 state and federal courts have ruled in favor of the freedom to marry. Today's ruling from the Sixth Circuit marks only the fourth anti-equality decision in that time period.
While the ruling breaks with sizable judicial precedent, it was not entirely unexpected from the circuit that is considered one of the more conservative in the nation. In fact, Supreme Court JusticeRuth Bader Ginsburg suggested in September that those hoping to see a marriage equality case arrive at the nation's highest court should watch the Fifth and Sixth Circuits, as they were most likely to issue decisions straying from the current momentum for marriage. Such a divergence, called a "circuit split," would all but compel the Supreme Court to hear at least one case on marriage equality, explained Ginsburg.
LGBT activist groups were quick to express their disappointment in the decision.
"Today's ruling is completely out of step with the Supreme Court's clear signal last month, out of step with the constitutional command as recognized by nearly every state and federal court in the past year, and out of step with the majority of the American people," said Freedom to Marry president Evan Wolfson in a statement. "This anomalous ruling won't stand the test of time or appeal. But with discrimination still burdening too many families, and now with this split in the circuits, Freedom to Marry calls on the Supreme Court to swiftly take these cases, affirm the freedom to marry, and bring national resolution once and for all."
The Human Rights Campaign had even harsher language.
"The legacies of Judges Deborah Cook and Jeffrey Sutton will forever be cemented on the wrong side of history," said HRC president Chad Griffin in a statement. "Today the Sixth Circuit stood in the way of a path constructed by two dozen federal court rulings over the last year — a path that inevitably leads to nationwide marriage equality. Gay and lesbian couples in Kentucky, Michigan, Ohio and Tennessee are just as deserving of marriage equality as the rest of America."
"Now, more than ever before, the Supreme Court of the United States must take up the issue and decide once and for all whether the Constitution allows for such blatant discrimination," continued Griffin. "We believe that justice and equality will prevail."
http://www.advocate.com/politics/marriage-equality/2014/11/06/breaking-federal-appeals-court-upholds-marriage-bans-4-states