Unconstitutional and unjust coercive legislation and laws, infringing individual rights, must be "of few days."  The vox populi, through the providence of God, promotes and impels all true reform; and, at the best time, will redress wrongs and rectify injustice. Tyranny can thrive feebly under our government.  God reigns, and will "turn and overturn" until right is found supreme.
Mary Baker Eddy
(Miscellaneous Writings 80: 16-23)
'This is the way it has always been' is an insufficient justification to deny 'a right as fundamental as marriage,' Judge Barbara Crabb wrote in striking down the Wisconsin same-sex marriage ban.
By Warren Richey, Staff writer / June 6, 2014
The Christian Science Monitor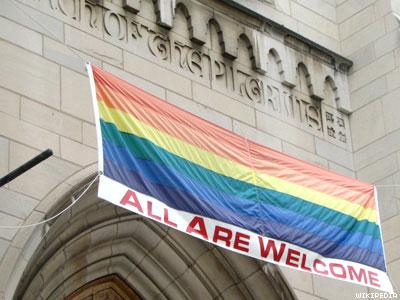 After years-long debate, Presbyterians allow gay marriage ceremonies (+video)
The Presbyterian Church's top legislative body voted Thursday to allow ministers to officiate gay weddings where it is legal. Some now even foresee a larger shift in favor of gay marriage among the religious.
Same-sex marriage is now legal in Pennsylvania. But few churches, synagogues or mosques allow a religious wedding for gay couples; KDKA's Jon Delano reports.
http://launch.newsinc.com/share.html?trackingGroup=90962&siteSection=csmonitor&videoId=26288499 – VIEW THE VIDEO
Gay members of the largest Presbyterian denomination in the United States will soon be able to marry at their place of worship, after the church's governing body adopted a resolution in Detroit on Thursday.
The General Assembly of the Presbyterian Church (USA), a faith that boasts 1.8 million adherents, voted by a wide margin to allow ministers to officiate gay weddings where it is legal. It also voted to change the phrase "a man and a woman" to "two people" in the church's official definition of marriage. Though the definitional change will need approval by the majority of the denomination's 172 presbyteries – a process that could take more than a year – gay couples can marry in Presbyterian churches starting this Sunday.
This is a move that's been in the works for some time. Church officials, whose ideologies span from ultraconservative to reform-liberal, have fiercely debated gay marriage over the past decade, twice voting against same-sex marriage at the church's biennial assembly. As recently as 2008, a pro-gay marriage measure failed with 540 votes against and 161 votes in favor, as many congregants feared that ideological divisions would be fostered.
Conservative and liberal officials again clashed in 2012, when the same measure was voted down narrowly, 52 percent to 48 percent. But now, the numbers have reversed, with 61 percent voting in favor of the change.
"Today really affirmed my faith as a Christian, that God has been calling us to affirm marriages of same-sex couples," said Alex McNeill, executive director of the More Light Presbyterians coalition, which supports the Presbyterian gay community. "Today, the church has reminded me that I am loved by God and claimed by this denomination."
Many conservative Presbyterians, however, were vocally distraught over the vote, and the assembly's moderator, Heath Rada, acknowledged that some assembly attendees felt "anger, wrath, pain" over the result, according to the Detroit Free Press.
Among them was the Rev. Bruce Jones of Janesville, Wis., who called it a "sad" day in an interview with the Milwaukee Journal Sentinel.
"For many of us, our understanding of Scripture is that God created marriage between a man and woman," he said. "For the 230 years of the Presbyterian Church USA and 2,000 years of Christianity, we have defined marriage between a man and a woman, and this assembly, the highest governing body of the church, reversed that today."
The ideological divide between conservatives and liberals has contributed to a steady decline in the church's membership, with some congregations breaking away to join more-traditional denominations. Since 2008 alone, the church has lost about 300,000 members.
Still, the church is the second most popular form of mainline Protestantism in the US, and it counts many well-known figures, including former Secretary of State Condoleezza Rice and President Reagan, among its adherents.
Some commentators have even portrayed the move as a harbinger of a larger shift in favor of gay marriage among the religious.
"This is a big deal – it's a big, official reinterpretation of what it means to be Christian and married," wrote journalist Emma Green in a popular article on The Atlantic magazine's website on Friday.
Among the other major faiths that officially sanction gay marriage are the United Church of Christ, Conservative and Reform Judaism, Quakerism, and Unitarian Universalism. Together with the members of the Presbyterian Church USA, the adherents of these faiths include slightly more than 5 million Americans.
• Material from the Associated Press was used in this report.