Unconstitutional and unjust coercive legislation and laws, infringing individual rights, must be "of few days."  The vox populi, through the providence of God, promotes and impels all true reform; and, at the best time, will redress wrongs and rectify injustice. Tyranny can thrive feebly under our government.  God reigns, and will "turn and overturn" until right is found supreme.
Mary Baker Eddy
(Miscellaneous Writings 80: 16-23)
Indiana's Ban On Gay Marriage Ruled Unconstitutional
The Huffington Post
A federal judge struck down Indiana's ban on same-sex marriage Wednesday, saying it's unconstitutional.
U.S. District Judge Richard Young said the state's ban violates the U.S. Constitution's equal-protection clause in a mixed ruling involving lawsuits from several gay couples.
The Indianapolis Star reports Young did not immediately issue a stay on the ruling, allowing couples to marry immediately.
http://www.huffingtonpost.com/2014/06/25/indiana-gay-marriage_n_5529774.html?utm_hp_ref=gay-voices&ir=Gay%20Voices
 Rev Paul Peck
Gay Pride 2014:
June 20,2014
At that first Gay Pride parade, I was scared stiff that one of my university colleagues would see me there. I was not yet "out". However, Craig Rodwell, who owned operated the Oscar Wilde Memorial Bookstore on Bleaker Street, was already becoming a good friend of mine. When I first went into the bookstore, I had to knock on the door and wait for admittance (the neighborhood was such). And Craig had a CS Journal displayed right out in front of the counter. Oh, what a brave soul he was—Gay and CS, and way OUT there. Perhaps you and Tall Daddy already know of him. I know that Bruce Stores has written of him.
I may have gotten the wrong address for the store. I know that he moved from that first place to another place smack in the middle of Greenwich Village. And there were many other leaders in those early years. For instance, there was Doctor Howard (?) Brown, who came out in front of the microphone at City Hall during a press conference. Dr. Brown was the Head of the NYC Board of Health. He later wrote a book titled "Public People, Private Lives". And so many others… Gradually, I became known for suicide and drug abuse prevention work—while still doing a full-time university job. Some of these things are mentioned in my autobiography…
Love,
Paul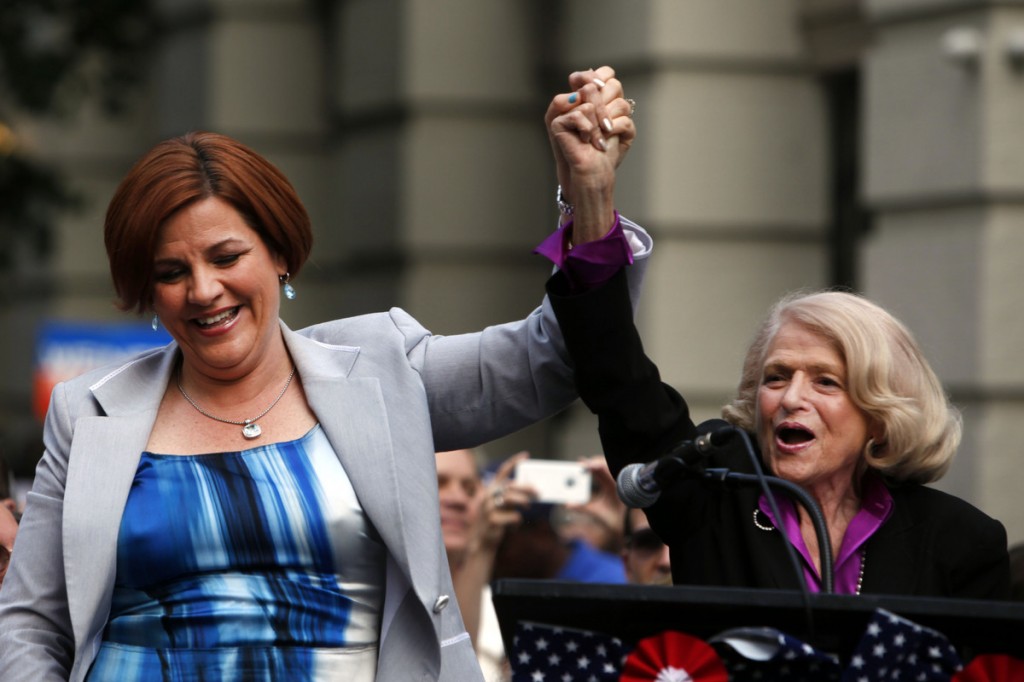 Bruce Stores
Gay Pride 2014
06/24/2014
I'd like to comment on one  statement.  He said, " . . . 
I felt I could not be gay and be a student of Christian Science." (Due to ant-gay articles and personal opinion expressed as CS standpoint NOT from Mrs. Eddy's writings and teachings.  
I think xxxx is the only person I know who felt the same as I did while coming out back in January of '79.  Most LGBT CS folks have said they were thrilled or something like that when they first learned the existence of an LGBT CS group, especially in those years of severe ostracism and discrimination.  
I was new to Seattle and didn't have a C.S. church congregation.  I decided to try MCC and for awhile that seemed to work.  The support from that Church felt so good. 
Fast forward seven months.  I was working one August day in the office of 

Seattle Gay News 

(SGN).  The office was a lively place, as perhaps most newsrooms are.  But around 3 pm every day it became stone silent.  That's when the mail arrived. 

SGN

 had a trade agreement with major gay newspapers around the country – so many that several arrived every day.  When the mail came, we passed the papers around.  We all studied them searching for news we might use.  On this day I was given the 

Advocate

, which was still a Los Angeles newspaper, not yet a national magazine.  For some reason my attention turned to the classified section.  There I saw an ad with bold letters, "EMERGENCE".   Underneath, it said, "We're Christian Scientists."   My immediate reaction was to be angry.  I thought, "That Church is opposed to us. There's no way [the people from Emergence/LA]  can be both gay and CS.  This is very wrong."   But curiosity got the best of me.  I wrote the organization, subscribed to their newsletter, talked to them on the phone and little by little came to see that they were right. 
It was eight months before another person from the Seattle area wrote to Emergence/LA about their ad.  When they received his letter in L.A., I got a phone call.  They gave me his name and how to reach him.   We met and decided to go for a walk in an open air park beside Puget Sound.  We poured out our hearts to each other, learning how good is was to meet and know another gay CSt.  I was 41; he was in his 70's.  Nevertheless, we bonded a close friendship that lasted until his passing in '94.  We agreed to start a LGBT CS group in Seattle, which for some years was successful.  In time, we learned that besides L.A., there were also LGBT groups of CSts in NYC, Chicago, and San Francisco.  All the gay CS groups had a newsletter and each group shared theirs with the others.  It was like a brother/sisterhood.  In 1983 the groups met together for the first time in Chicago and two years later we formed a national organization, Emergence, Inc., (later changed to Emergence International).   
For those who are new to cslesbigay and Emergence, that's how it all began.