"I believe it is clear to everyone that Judge Yu has both the qualifications and experience to sit on our Supreme Court," said Inslee at Yu's appointment ceremony Thursday. "And her personal story adds a unique perspective that is important as our state's demographics continue to shift."
Wash Supreme Court Gets First LGBT Justice
Justice Mary Yu was appointed to the Washington State Supreme Court Thursday, making her the first openly LGBT, Latina, and Asian-American person to sit on the high court.
http://www.advocate.com/politics/2014/05/01/wash-supreme-court-gets-first-lgbt-justice
* Photo (Below) – Judge Mary Yu presides over one of the state's first legal same-sex marriages after Washington enacted marriage equality in 2012.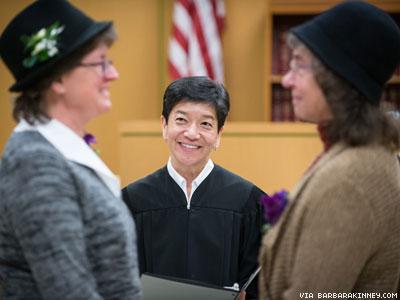 CHRISTIAN SCIENCE FAVORABLY REGARDED
By ISIDOR JACOBS
From the February 9, 1907 issue of the Christian Science Sentinel
San Francisco, Cal., Jan. 18, 1907.
Mrs. Mary Baker Eddy, Concord, N. H.
Dear Leader:—Although you are aware of the rapid spread of Christian Science throughout the civilized world, I thought it might please you to hear of a trip recently made by me through Southern California. As chairman of the executive committee of an extensive association of merchants and manufacturers, I was appointed a delegate to attend a conference at San Diego to consider the subject of improving the harbors of California. I left on the evening train, together with our civil engineer. Shortly after the train started, the subject of Christian Science came up, and the gentleman accompanying me said that his wife had been healed by Christian Science, years before, of what was pronounced by the physicians incurable. Several people in our car participated in the conversation, and all were friendly and spoke in the highest praise of you and of what you are doing towards enlightening mankind. No one was antagonistic, even in the slightest degree. On our arrival the next day at the convention, we found gathered there as delegates some of the most prominent men from all parts of California. After the deliberations were at an end several excursions were planned, and on one of these (a steamer ride on the beautiful bay of San Diego) the subject of Christian Science was the general topic of conversation. Among those who participated was a former State Senator, now frequently mentioned for United States Senator, also a recent candidate for Congress, a school superintendent, two prominent lawyers, and several others representing large commercial and financial interests. The excursion almost took on the phase of a Christian Science testimony meeting, as every one had something good to say as to what he knew about Christian Science. The Senator made the statement that he knew so many levelheaded, practical business men who were interested, that this alone indicated to him its great value. Every one had something similar to say, and many told of cases of healing, either in their own families or among, their acquaintances. It must be borne in mind that these men, gathered together from different parts of our State, were mostly strangers to each other, and but few had ever attended a Christian Science service or meeting.
During my trip I had the pleasure of meeting in Southern California a Superior Court judge, and a former judge of the Supreme Court of our State, both enthusiastic adherents of Christian Science. On my way home I met at Los Angeles a number of leading Christian Scientists, and attended a Wednesday evening meeting at which upwards of twelve hundred people were present. I heard, as usual at such meetings, many additional strong proofs of the work of Christian Science in the healing of all manner of diseases. At this meeting several attorneys gave very strong testimonies to the benefits derived from the understanding and proper application of your teaching.
Surely the whole civilized world has reason to feel grateful to you for what you have done and are daily doing for the benefit of mankind. Personally I have received many, many benefits from Christian Science, particularly in the trying times here since last April.
With heartfelt gratitude and love,
I am yours in the truth.
ISIDOR JACOBS.