His [Jesus'] was not book religion, but experience religion
His [Jesus'] was not book religion, but experience religion. As religion is not cult or institution, so it is not dogma, nor formula, nor theory. Religion is too simple for the theologians. They cannot teach religion any more than they can teach the grass to grow, birds to sing, or lovers to love.
Prof. George Burman Foster.
From the March 3, 1906 issue of the Christian Science Sentinel
Chicago Tribune.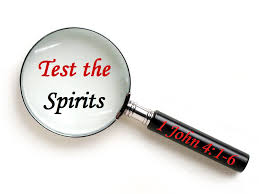 3:16

2 months ago
2,376 views
HD
Experience
BY MABEL S. MANCHESTER.
From the February 27, 1902 issue of the Christian Science Sentinel
The one thing needful for the full fruitage of our growth in Christian Science is experience. We "rise by the things we put under our feet." In the Apocryphal New Testament, one writer says, "It is the part of a brave combatant to be wounded and yet to overcome." How do we really know the nothingness of error until we have proven it for ourselves? As we journey are we not made stronger by wrestling with and defeating every temptation that presents itself? and does not this fit us better to comprehend our brother's need, and so cheer and encourage him, than one who has not yet learned the value of experience?
Jesus said to Peter, "Satan hath desired to have you, that he may sift you as wheat: but I have prayed for thee, that thy faith fail not." He did not pray for Peter to be delivered from the temptation or saved that sifting process. He simply prayed that his faith would not fail him during the hour of trial, well knowing that through this experience Peter would learn valuable lessons, and thus be enabled to do more understandingly his Master's work, for he immediately adds, "And when thou art converted, strengthen thy brethren." We are often tempted to shrink from experience, but do we understand that every experience is a step heavenward, because it helps us to wipe out some of the mists of material sense? Science and Health says, p. 331, "Jesus spares us not one individual experience." Then they are needful to us, or we would not have them. Through experience we learn to have more love and compassion for our brother, to be more charitable in our work together, knowing we "all are tempted." Then we see more clearly our brother's need, and shoulder to shoulder we march on, each a help to the other, until we awake satisfied.