When I began with Science and Health, I read the chapter on "Prayer" first, and at that time did not suppose it possible for me to remember anything I read, but felt a sweet sense of God's protection and power, and a HOPE that I should at last find Him to be what I so much needed, – a present help in time of trouble.
"Fruitage"
(Science and Health with Key to the Scriptures , pg.637)
Rob, Thank you very much for speaking out as you did this weekend, and I thank Sean for doing so as well, and those who helped debunk some of the arguments that Mrs. Eddy wrote against gays and lesbians in her writings. I was heartened by the applause you received for your boldness in the Spirit and Sean received. We are heading towards being a truly inclusive church—exclusive of mental error and inclusive of our common divinity and humanity. 
George Wadleigh –  April14,2014
Christian Science Practitioner – Elgin, IL
Volunteer Chaplain Chicago – Read Mental Health Center
*George Wadleigh was the keynote speaker at the Emergence International,  St. Louis, Conference in 1997.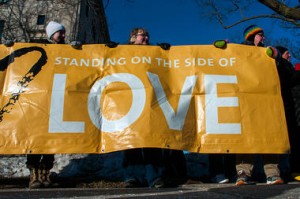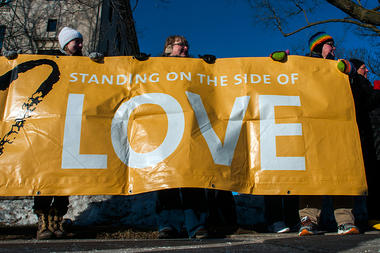 10:1
0
by GLAAD
2 days ago
18,678 views
Lopez follows her heart as she discusses her biggest HOPE which  is to waken young people to feel loved, empowered, understood and included regardless of their sexual orientation or how they define their gender.  Love is stronger than hate if we stay awake, alert and responsive to uncover mental error so our day can be big with blessings.
How to wake up and stay awake
GEORGE WADLEIGH
From the October 1984 issue of The Christian Science Journal
* Photo Below  – Courtesy of all posters.com – Agony in The Garden
The sleepy-looking cartoon character rises from his breakfast table and mumbles, "And now, having satisfied one hundred per cent of my daily requirements, I am returning to bed." 1 Do we sometimes leave our spiritual "breakfast"—our morning prayer and study of the Bible Lesson 2—with a similar yawning indifference to the day's prospects?
"To those leaning on the sustaining infinite, to-day is big with blessings," 3 read the promising first words of Science and Health by Mrs. Eddy. We are never promised that those who hurry through their prayer and spiritual study and then go back to sleep mentally (or physically) will be rewarded. Yet how easy it is for us to fall into the trap either of complacent self-congratulation over having started the day well (as we see it) or of self-condemnation for having failed again to pray or read the lesson.
For some time I felt frustrated by my tendency to fall into both these pits. Whenever I had some free time, my prayer or spiritual study often was followed by a lengthy nap. I might have been dreaming my way to heavenly heights, but my head lay still on the pillow.
I would read with a heavy heart these words in Science and Health: "Lulled by stupefying illusions, the world is asleep in the cradle of infancy, dreaming away the hours. Material sense does not unfold the facts of existence; but spiritual sense lifts human consciousness into eternal Truth." 4 I knew very well that by failing to put what I'd learned into action, I was keeping my spiritual progress in "the cradle of infancy."
Fortunately, God is a good, merciful, and loving God who, like a shepherd, leads His sheep out of danger and lifts the struggling ones out of the pit. God's love for His idea, man, our true selfhood, remains constant. So whether we respond to His awakening with a smooth, natural obedience or with drowsy, halting steps, His purpose in our lives will inevitably wake us up to His requirements.
Many of us can remember times when we should have been more alert and not "asleep at the wheel." We discover in emergencies, when God's immediate help is required, that Love indeed is there and wakens us to think and pray with wonderful intensity. But then there are also times when we feel a desperate spiritual need to shake ourselves from the stupor of mortality and see what unmet challenges lie before us. Christ Jesus' disciples dozed by their Master as he prayed in the garden of Gethsemane. As a result they woke to flee from the enemies of Christ or to flail uselessly with their material defenses. Drowsiness and mesmerism had put them not on hold but in mental reverse.
Just as the disciples' keen memory of their desertion of Jesus must have thereafter prodded them many times to greater watchfulness, so our waking desperate moments can do the same for us. We can learn well from the Biblical examples; and remembering our own or others' past agonies and victories will help us reason correctly. But what about those times when we can't seem to think clearly at all? At these very moments the Christ, the spirit of God, is with us. The Christ-spirit rests and strengthens us and tells us in the words of Jesus: "Comeunto me, all ye that labour and are heavy laden, and I will give you rest. Take my yoke upon you, and learn of me; for I am meek and lowly in heart: and ye shall find rest unto your souls. For my yoke is easy, and my burden is light." 5
Isn't this a wonderful answer to our frequent complaints that it's too hard to be spiritual or that error is thwarting our best efforts! In Christ our burden is not heavy with self-righteousness but light with meekness and lowliness of heart. Jesus lifted his followers' limited vision of their own lives to see an unlimited, inspiring purpose that would naturally make them more alert and less "lulled by stupefying illusions." He cautioned all to watch and pray to be free of the temptation of apathy. And he showed us a life unlimited by rigid patterns of thought and behavior.
Jesus' spontaneous healing activity and sharing of the gospel was surely a strengthening activity, never drudgery. He had "meat to eat" 6 and a holy rest that his disciples did not always appreciate. Do we appreciate his "meat" and rest today? Are we willing to learn of Christ, share his holy rest, and part with some of our old, tired patterns of living? Or are we smugly confident in our present ways because we feel that we are better or more disciplined than those around us? Are we kept from spiritual progress by the mere suggestion that life of the Spirit is just not exciting enough?
Notice these lies that would quench the Spirit. Watch for them and answer them not merely by perfunctorily doing what you think a "good" church member "ought" to be doing. Do what God naturally tells you, and He will nourish and inspire your spiritual growth and service to others. This may mean praying while you work, or even while jogging around the block. The actual human method has a secondary place because God honors the purity of our intent.
Use the comfort and consolation of our Master and let it strengthen you. Lean on "the sustaining infinite" more than the stimulating, temporary, and materially exciting. Then as you feel yourself emerging from old drowsy lies that life is confined in matter, your experience will take on a richness that worldly living could never produce.
This spiritual richness does not come from force-feeding oneself by a merely willful or intellectual study of the Bible and Mrs. Eddy's writings or by rote prayer. Instead we can let God open His purpose for us and show us the deep things of Spirit. Then we pray or read the Lesson-Sermon not with our eye on the clock but paying attention instead to the spiritual need in our heart.
With this spiritual approach to our metaphysical "breakfast," we won't be afraid of falling asleep, because we will be inspired to active use of our spiritual nourishment. We will wake without the stimulus of human excitement and will not limit ourselves to humanly prescribed "minimum daily requirements." Our day will indeed be "big with blessings."
1 Lee Lorenz, in The New Yorker, October 27, 1975.↑  2 In the Christian Science Quarterly.↑  3 Science and Health, p. vii.↑  4 Ibid., p. 95.↑  5 Matt. 11:28-30.↑  6 John 4:32.↑