"Conflict and persecution are the truest signs that can be given of the greatness of a cause or of an individual, provided this warfare is honest and a world-imposed struggle. Such conflict never ends till unconquerable right is begun anew, and hath gained fresh energy and final victory."
[Extract from "Message to The Mother Church" for June, 1900]
Mary Baker Eddy
Federal judges in Utah, Oklahoma, Virginia, and Texas have ruled that state amendments and laws banning gay marriage violate the US Constitution. Michigan now joins that group.
By Brad Knickerbocker, Staff writer / March 22, 2014
"In attempting to define this case as a challenge to 'the will of the people,' state defendants lost sight of what this case is truly about: people. No court record of this proceeding could ever fully convey the personal sacrifice of these two plaintiffs who seek to ensure that the state may no longer impair the rights of their children and the thousands of others now being raised by same-sex couples."
US District Judge Bernard Friedman – appointed to the federal bench in 1988 by Ronald Reagan.
http://www.csmonitor.com/USA/Justice/2014/0322/Same-sex-marriage-Court-shoots-down-yet-another-state-ban-video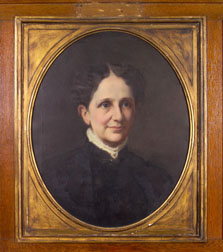 31:42
Vice President Joe Biden spoke to over 1000 LGBT rights supporters at the Human Rights Campaign Los Angeles gala on March 22, 2014.
HUMAN RIGHTS AND DIVINE CLAIMS
MAUDE FRANCES ATKINSON
From the August 1941 issue of The Christian Science Journal
"God has built a higher platform of human rights, and He has built it on diviner claims." These arresting words by Mary Baker Eddy on page 226 of "Science and Health with Key to the Scriptures" are followed by another remarkable statement: "These claims are not made through code or creed, but in demonstration of 'on earth peace, goodwill toward men.' "
What are commonly called "human rights" appear to be chief among the demands of the human race. Throughout the centuries mankind has fought for these rights, striven and struggled for them. Many, feeling that the struggle is useless, being overwhelmed or burdened by the vigorous efforts needed to achieve this goal, have become resigned to let things take their course. The truth of divine justice, as taught in Christian Science, alone can give mankind that definite sense of security and peace so greatly needed in the world today. Christian Science reveals the infallible manifesto of infinite Mind.
It may be asked. What are human rights? Some may think these rights are to benefit a few, and that they mean the gaining of power and authority to dominate and control. One individual may think another stands in the way of his acquiring these so-called human rights, and may endeavor to check his growth or progress. But the law of God is universally available. As recorded in the Gospel of Luke, Jesus said, "It is easier for heaven and earth to pass, than one tittle of the law to fail." What a wealth of power, confidence, and assurance is established in the Master's words, for all who trust in God's law and government! Christian Science demonstrates and fulfills the prophecy of the Master's words and works.
There is no basis or scale by which to judge or weigh human rights from a material standpoint of personal interests and views. The writers of the Declaration of Independence glimpsed the spiritual significance of human rights based on diviner claims when they wrote that "men are endowed by their Creator with certain unalienable Rights; that among these are Life, Liberty and the pursuit of Happiness." We possess these rights only as we learn something of self-government, because what some call liberty may result in bondage both to themselves and others. Freedom of conscience to some may mean a satisfying of selfish desires and human will. The pursuit of true happiness requires individual self-government, which shares its joys and unfoldment and seeks to advance one's own welfare and the general welfare of mankind.
Under the marginal heading "Proper self-government" in the Christian Science textbook, Mrs. Eddy writes (p. 106): "God has endowed man with inalienable rights, among which are self-government, reason, and conscience. Man is properly self-governed only when he is guided rightly and governed by his Maker, divine Truth and Love." And in the next paragraph she says, "Man's rights are invaded when the divine order is interfered with, and the mental trespasser incurs the divine penalty due this crime."
Through the teachings of Christian Science we learn that true self-government includes self-control, self-command. It has nothing to do with matter or mortal mind. It is the recognition of divine Mind as controlling all. The divine Mind controls all that really exists. It knows nothing outside of itself. Mind is All and includes nothing that is unlike itself and its own nature. It is reflected by man, who expresses the might, majesty, and glory of omnipotent, omnipresent Love. It is revealed to humanity through Christian Science, which sustains, illumines, and elevates human consciousness. It is the unfoldment of the will of God.
Liberty, freedom, self-government, reason, and conscience are properly based on the divine claims of heaven-bestowed harmony for all. These qualities we cannot separate from the Golden Rule, if obedient to our Master's admonition to "worship the Father in spirit and in truth."
Pilate, afraid, and "willing to content the people," strove to defend his human rights when he said to the great Way-shower, "Knowest thou not that I have power to crucify thee, and have power to release thee?" Jesus asserted his claim to divine power by replying, "Thou couldest have no power at all against me, except it were given thee from above." Jesus knew that the power of divine Mind was not in human hands to be distributed or meted out according to mortal inconsistencies and frailties. He knew that divine power was vested in the one and only creator, divine Love, which was revealed to his consciousness through spiritual understanding. His words and works reveal the foundation of liberty, freedom, and conscience to all who earnestly strive to demonstrate the truth he taught.
How often do we see human rights invaded, set aside in the attempt to satisfy mortal mind! We find an illustration in the Bible when Felix was "willing to shew the Jews a pleasure" by leaving Paul bound, a prisoner. But the divine rights or claims are not learned through human code or creed. They are born of divine law and order, and cannot be revoked at the command of human will. All law and government is based on divine rights. Moses received from God the Ten Commandments. Christ Jesus established the Beatitudes as rules of conduct for all mankind. Mrs. Eddy has given her discovery to the world in her textbook, Science and Health, to rouse men to admit into their lives the redemptive work of Christ, Truth, thereby helping to bring health and prosperity to all nations, peoples, climes, and races.
What is it, then, that causes men to withhold the just recognition of human rights from one another? Fear, self-justification, and human will are mental transgressors. There is no self-government in any of these false qualities. Self-justification has no honest recognition or due regard for human rights. This condition can be overcome by Christian Science, which enables the human consciousness to rise and master false beliefs through the transforming power of Love, and to attain human rights based on diviner claims, thus assuring us of liberty and freedom as the sons of God.
An illustration of one's liberty and freedom as a son of God is seen in the experience of a man who had served a term in a state penitentiary, and whose life had been completely changed through the teachings of Christian Science. Some years after his release he found himself falsely charged with forging the endorsement of a check and under a suspended sentence for obtaining money under false pretenses. On the day set for his trial, his lawyer informed him he had obtained a compromise that if he would plead guilty to a lesser charge he would be sentenced to only a short term. Knowing himself to be innocent, and with the clear conviction he had gained in Christian Science of his human rights based on diviner claims, he discerned this argument as aggressive mental suggestion, an attempt of error to nullify divine Love, which he knew to be the only presence and power. He was able to say with confidence to his lawyer, "I will place my case in the hands of God without fear." He gave thanks to God before the trial commenced, confident that the power of God would be revealed, because he had cleansed his own thought of all bitterness, anger, or resentment. As a result of his trust in God, he was completely absolved of both charges and was reinstated in his former position under much happier conditions.
Mrs. Eddy writes (The People's Idea of God, p. 11), "Above the platform of human rights let us build another staging for diviner claims,— even the supremacy of Soul over sense, wherein man cooperates with and is made subject to his Maker." Christian Science supports and maintains human rights for one and all. It reveals divine justice as bestowed impartially upon all. It preserves peace and good will towards ALL mankind.