Conflict and persecution are the truest signs that can be given of the greatness of a cause or of an individual, provided this warfare is honest and a world-imposed struggle. Such conflict never ends till unconquerable right is begun anew, and hath gained fresh energy and final victory.
Mary Baker Eddy
It is a moral understanding today that gay people are no different and that gay, married couple's relationships are not significantly different than the relationship of straight, married couples.
Roberta A Kaplan
UNITED STATES V WINDSOR ATTORNEY
Women's History Month in March recognizes the contributions of women to events in history and their influence on contemporary society. The theme for this year is Celebrating Women of Character, Courage, and Commitment.  Mary Baker Eddy, Roberta Kaplan and Edith Winsor have each earned their place in this shining constellation of many stars.
Roberta Kaplan, DOMA Attorney, Named AOL's Next MAKER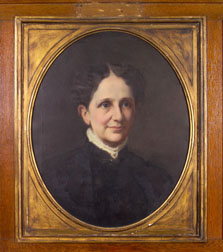 VIEW TODAY'S POWERFUL VIDEO
http://www.makers.com/roberta-kaplan
BEARERS OF THE PEARL
By Doris Kerns Quinn
From the September 23, 1972 issue of the Christian Science Sentinel
Fear of ridicule can lose us many things.
(It's said we have a secret dread of being kings.)
For fear we may fall short, we never seek to rise,
But sit in suffering silence with our hidden thoughts
Well guarded by a status-quo disguise—
Forgetting there can be no crown without a cross.
Oh, risk the ridicule; face the cynic's dare;
Defy the mockery, withstand the scornful stare!
For some will warmly welcome what we bring to them,
And those who ridicule we gently leave behind:
We're not apologists who bring a modest gem,
But bearers of the priceless pearl to all mankind.
Doris Kerns Quinn