19And he saith unto them, Follow me, and I will make you fishers of men. 20And they straightway left their nets, and followed him.
Matthew 4:19
Finally, brethren; wait patiently on God … and follow your Leader only so far as she follows Christ.
Mary Baker Eddy
Message to the Mother Church in 1901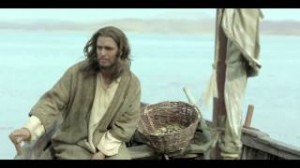 The Bible Series – Episode 5 Jesus and Peter
11 months ago
401,618 views
From Our Leader
By Editor with contributions from M. B. Eddy
From the February 8, 1900 issue of the Christian Science Sentinel
This article was later republished in The First Church of Christ, Scientist, and Miscellany: My. 247:10-30
THE following letter from our Leader, to the First Reader of one of our churches, we have gained permission to give to our readers that all may share its blessing.
Editor.
Pleasant View, Concord, N. H., February 2, 1900.
Beloved Student:— Christ is meekness and Truth enthroned. Put on the robes of Christ and you will be "lifted up and will draw all men unto you."
The little fishes in my fountain must have felt me when I stood silently beside it, for they came out in orderly line to the rim where I stood. Then I fed these sweet little thoughts that, unfearing me, sought their food of me.
God has called you to be a fisher of men. It is not a stern but a loving look that calls forth mankind to receive your bestowal; not so much eloquence as tender persuasion. that takes away their fear, and it is Love alone that feeds them.
Do you come to your little flock so filled with divine food that you cast your bread upon the waters? Then be sure that after many, or a few days, it will return to you.
The little that I have done, has all been through love, self-forgetful, patient, unfaltering tenderness.
With love, Mother.
M. B. Eddy.