For I am persuaded, that neither death, nor life, nor angels, nor principalities, nor powers, nor things present, nor things to come, 
[39] Nor height, nor depth, nor any other creature, shall be able to separate us from the love of God, which is in Christ Jesus our Lord.
Romans 8:38-39 (KJV)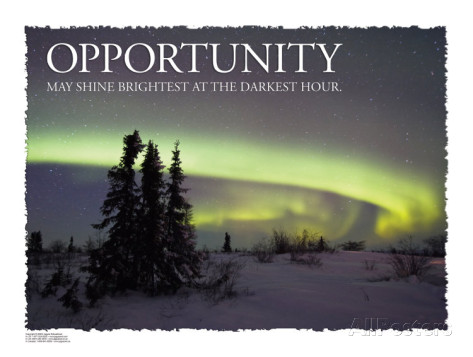 Opportunity
By Jeff Rice CS
Frankford, De.
* Photo – Courtesy of allposters.com
What did Paul mean when he said "nor things present, nor things to come"?
I find it interesting that he didn't say "nor things past". He really didn't have time to be concerned with the past. He was always active. Always on the move. Doing what needed to be done in the present. He was always involved with what was right in front of him to do. By living as a new creature in Christ he was sustained through all kinds of trials and tribulations. Even when the past tried to claim reality over him by the persecution of who he used to be, he still rose above it in his present work. He survived shipwrecks, being stoned, snakebites, and a whole lot more. His friends even thought he was a basket case, and snuck him over the wall of the city in a large basket to escape his persecutors.
Often, we hear about peoples struggle with the past. We often hear "If this didn't happen, I would be a lot further ahead." When further ahead is actually right now.
If life is lived in past memory, the tendency is to never want to face the present or upcoming events. Hiding, avoiding, and isolating from the world become the norm. Today's opportunity passes by while regret of the past and the fear of the future are being entertained, and all this because the past is considered the actual. But upon simple investigation we easily find that neither the memory of an event, nor the fear of an event, can actually pass for the event itself.
Is our fear of the future really rational? Has the event that we greatly fear actually happened yet? Of course not. Nor could we be truly honest  with ourselves by saying that the memory of a painful experience is actually happening right now. What is the event right now if the past is no longer present and what we fear hasn't actually happened yet? Pure opportunity. Opportunity for what? To look up and live.
What happens when we live this pure sense of opportunity?
Jesus once said, "As long as I am in the world, I am the light of the world." John 9:5
He also said, "Ye are the light of the world. A city that is set on an hill cannot be hid.
15 Neither do men light a candle, and put it under a bushel, but on a candlestick; and it giveth light unto all that are in the house.
16 Let your light so shine before men, that they may see your good works, and glorify your Father which is in heaven. Matthew 5:14-16
As long as our light of opportunity is in the world we are the light of the world. Neither can we be hid. Nor will we be under the bushel basket of a regretful past or a fearful future. But our pure opportunity lived, will be a light to all who are receptive. They will see our good works and it will glorify our Father which is in heaven.
Jeff Rice, CS
Frankford, De.
More by Jeff Rice . . . 
Jeff shares how he discovered his original pure and perfect identity as a child of God and how that helped him overcome drug addiction.
"…and the darkness did not overcome it"
http://sentinel.christianscience.com/shared/view/sk19y2fokw?s=e