"One infinite God, good, unifies men and nations; constitutes the brotherhood of man; ends wars; fulfils the Scripture, 'Love thy neighbor as thyself;' annihilates pagan and Christian idolatry,—whatever is wrong in social, civil, criminal, political, and religious codes; equalizes the sexes; annuls the curse on man, and leaves nothing that can sin, suffer, be punished or destroyed".
Mary Baker Eddy
Science and Health with Key to the Scriptures (p. 340).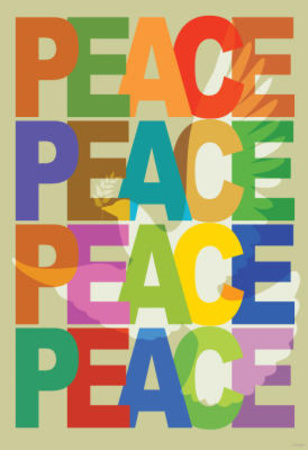 4:32
From Anger to Love
Peace begins by each of us seeing the spiritual identity of all peoples.
ROBERT PRESS
From the April 2007 issue of The Christian Science Journal
DAILY NEWS COVERAGE OF THE WAR IN IRAQ, or the instances of bombings in places such as England or Spain, as well as vehement debates among our political leaders about the best way to respond to terrorism, can all leave us feeling like helpless bystanders to a tragic world drama. We can also be drawn into heated arguments with colleagues over political choices. Or, feeling overwhelmed by what we think we can do nothing about, we just ignore what's happening.
But we're not helpless. Everyone can participate in ending terriorism, wherever it appears. How? If our thoughts and actions are love-based and not fear-based, we can contribute to reducing the impact of terror and terrorism on our own lives. In this way we can be a positive, spiritual force for ending terrorism in the world, regardless of the kind of response our political leaders choose.
As a former correspondent for The Christian Science Monitor and now as an academic researcher of peaceful resistance and international human rights, I have come to appreciate the universal nature of the quest for peace. In preparing to write this article, I read some of the thoughts on the topic by a range of people, including Nobel Peace Prize winner Dr. Martin Luther King, Jr., and the man Dr. King nominated for a Nobel Peace Prize, Thich Nhat Hanh, of Vietnam. I also referred to some of the writing of Mahatma Gandhi, and his grandson Arun Gandhi. And I revisited what John Lennon had to say about peace, aware that his musical calls to imagine peace and to give peace a chance struck a deep inner chord in millions of people around the world.
And, of course, I examined statements about peace attributed to Jesus and those from the writings of Mary Baker Eddy, who discovered Christian Science and dedicated her life to relieving humanity of suffering.
These deep thinkers offer us a challenge: To look beyond the outward, physical condition and focus more on our own thoughts—to turn from anger to love, from hatred to compassion. This redirection of focus doesn't mean that we're ignoring problems. Rather, it means we need to find ways of thinking, talking, and even writing about the threats to our world and to our own peace of mind—new ways that can lessen violence and open new channels of thought and communication.
Terrorism—acts or threats of violence designed to demoralize or intimidate a targeted people or country—is nothing new. The roots of human violence date back as far as the beginnings of human history. One example in the 20th century took place in the United States when white supremacists carried out acts of terror against African-American citizens, and institutionalized segregation denied equal access for these Americans to public facilities, including schools.
Responding to—not ignoring—such acts of intimidation took courage. In 1957, Dr. King told the Arkansas teenagers in the "Little Rock Nine" about their effort to secure the right for black children to go to the same schools as whites, "You are not doing this for yourself but for generations yet unborn" (as recounted by Melba Beals, one of the group, in the Christian Science Sentinel, January 19, 2004). His words echo Mrs. Eddy's statement about Christian Science in Science and Health: "Whoever opens the way in Christian Science is a pilgrim and stranger, marking out the path for generations yet unborn" (p. 174).
The man Dr. King later nominated in 1967 for the Nobel Peace Prize, Thich Nhat Hanh, a Buddhist monk, wrote in 2002: "The root of terrorism is misunderstanding, intolerance, hatred, revenge and hopelessness … Bombs and missiles cannot reach it, let alone destroy it. … Only with the practice of deep listening and compassion can it be transformed and removed" (Nuclear Age Peace Foundation, November 2002).
Hanh suggests listening to those who oppose us, to those who would harm us. He also suggests that actions based on motives of peace and understanding are more likely to lead to positive results for the world than those based on fear, anger, and hatred.
According to another peace activist, Arun Gandhi, his grandfather, the world-renowned advocate of nonviolent protest, Mahatma Gandhi, never found a satisfactory English word to describe his concept of nonviolence, saying that it wasn't "passive resistance" or "civil disobedience," because in the Mahatma's view, nonviolent actions were neither passive nor disobedient. Mahatma Gandhi finally settled on a Sanskrit term satyagraha, meaning "the pursuit of truth." Mahatma Gandhi said we must not wait for someone else to change. "We have to be the change we wish to see" ("Arun Gandhi Reflects on Working Toward Peace," www.scu.edu/ethics/architects-of-peace/Gandhi/essay.html).
And the former Beatle and peace advocate John Lennon wrote one of the most powerfully affecting anthems to a peaceful world, "Imagine." In the Iyrics of this song, Lennon envisioned a "brotherhood of man" and a time when "the world will live as one." Today, that goal still seems a long way off. But I have seen examples of what all of these individuals have written (and sung) about—the peaceable nature of people striving for a world at rest in harmony and nonviolence. Despite oppression and threats, citizens across the world have had the courage and conviction to rise peacefully to oppose violent tactics by their governments and insist instead on democracy and peace.
A few examples include the masses of people who followed Gandhi's protests that helped liberate India from British rule; and the massive support given to opposition leaders in the Philippines in 1986, when Ferdinand Marcos tried to steal the presidential election. Even his military refused to stop the protests. In 1989, millions demonstrated peacefully in Eastern Europe against Communism, leading (among other events) to the fall of the Berlin wall.
In Kenya in the late 1980s and early 1990s, mothers, as well as lawyers, journalists, and clergy, stood up for the principles of justice and rule of law. Mothers staged a daring sit-down strike in a public park, only to be attacked by police. The mothers retreated to a nearby church, but continued the sit-down strike for a year, demanding—and eventually winning—release of political prisoners who included their sons.
In Liberia, where my wife, Betty, and I spent two months last summer, we spoke with dozens of Liberians who courageously and peacefully opposed terrorist regimes for a number of years through lawsuits, newspaper and radio reports, marches, and public protests to demand basic freedoms. With the help of some international diplomatic pressure, they won their demands. Liberians in 2005 elected Africa's first woman president, and the country continues to make steady progress in the area of human rights.
In December, Betty and I joined a human rights delegation to the southern state of Oaxaca, Mexico, where residents had staged a month-long occupation in 2006 of a main plaza in the state capital to demand honest elections and fair distribution of state resources. When state and federal police unleashed overwhelming violence, some protesters struck back. But peaceful protest marches continued as people demanded justice in a state long favoring the rich.
These are just a few among thousands of examples of ordinary people trying to put into practice the kinds of ideals Jesus encouraged. Jesus said, "Blessed are the meek: for they shall inherit the earth" and "Blessed are the peacemakers: for they shall be called the children of God" (Matt. 5:5, 9). Peacemaking means more than just relying on military might.
Mrs. Eddy, a strong advocate for peace, asked the members of her church on June 13, 1905, to pray specifically for peace between Russia and Japan. She asked, "… pray each day for the amicable settlement of the war between Russia and Japan; and pray that God bless that great nation and those islands of the sea with peace and prosperity" (The First Church of Christ, Scientist, and Miscellany, p. 279). Two days earlier both sides had agreed on talks, but some fighting followed. On June 27, 1905, she asked members to cease this special prayer "in full faith that God does not hear our prayers only because of oft speaking …" (ibid., p. 280). On August 9, 1905, peace talks opened in Portsmouth, New Hampshire, not far from Mrs. Eddy's home in Concord.
The starting point for dealing with terrorism and how we perceive its threats is to see the true nature of everyone—to see the spiritual identity of even those who are oppressing or persecuting others or us. Mrs. Eddy explained the definition of man, in part as the "spiritual image and likeness of God" (Science and Health, p. 591). And she defined God as Love (ibid., p. 587). That means that one's true identity—everyone's true identity—reflects divine Love. Therefore, we are not designed to hate anyone, not even perceived enemies.
Another key step we need to take is to overcome our fear of threats. Fear, Mrs. Eddy pointed out, is the root of many problems. She said, "Sickness, disease, and death proceed from fear" (Science and Health, p. 260). What better way to overcome fear than by seeing the essential core of love and goodness in everyone, regardless of their (or our) momentary actions to the contrary?
To move toward peace, whether with our neighbors or between international adversaries, we need to see beneath the material surface of any opponent's actions to recognize their true, spiritual nature. I haven't always done this myself. But once when I was on a reporting assignment in Cameroon in West Africa, I ran outside our hotel and into a crowd of men preparing to beat a suspected thief with pipes. I knelt beside the intended victim and appealed to the goodness, the spiritual nature of the others, not to hurt the man. They halted. A few moments later a military police officer arrived, and after applying a few symbolic blows to the man with his baton, took him to safety.
We are not designed to hate anyone, not even perceived enemies.
This is just one small example of how understanding and appealing to each person's spiritual nature can bring peace. And we can resolve to respond to conflict in our own lives and in the world with spiritual love and understanding, instead of expressing fear, hate, or anger. We don't have to wait for others to do it. We can begin by seeking to live the words of the popular song, "Let there be peace on earth, and let it begin with me."