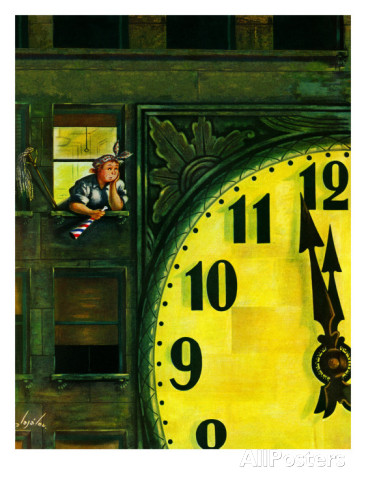 2:45
by MrCmas
4 years ago
38,796 views
"…to-morrow grows out of today."
Virginia Harris, C.S.B.
* Photo Above – Courtesy of allposters.com
It's that time of year when columnists, pundits, photo-journalists and bloggers try to recap the events of the past 12 months into some notion of meaningful 'summing up' list: 'The Best…', 'The Most…', 'The Least…', 'The Worst….', etc. If you were summing up your year, how would you describe it? Would the events land in 'the best' bucket, 'the most' bucket…or are you simply glad the year is over? More importantly, what are you expecting for the future?
There is something about the close of one year and the beginning of the new that encourages us to pause and reflect on what happened – and what was accomplished – in a year's time. Even when there have been significant challenges, it is always good to ask, "OK, what did I learn?" The loss of something can be a valuable gain when you take a different perspective and look for the good. Here's another good thing: the lessons become stepping stones for greater accomplishments.
When Mary Baker Eddy delivered the sermon on Christian Healing that began with the above quote, she had already experienced trials that could have been overwhelming: loss of traditional family and the comfort of a stable home life, financial insolvency, and unrelenting poor health.
But by the time of the sermon, she was able to speak authoritatively from the perspective of healing and victory: she was an author, medical and religious reformer, publisher, pastor, spiritual teacher and healer. Through determined and inspired study of the Bible and scientific analyses, Eddy had discovered and proven that the key to establishing a productive life, blessed and blessing others, was two-fold: understand the omnipresent and omnipotent love and goodness of who God is, and love our God with all the heart and soul and mind. Living and loving this way, we are inseparable from the divine goodness that heals every ill. To Eddy, this was obeying the First Commandment every day…and from this devotion must come daily victories.
Are you resolved to put divine service first and foremost in your life today – to love your neighbor (even if he doesn't seem lovable), to do good for someone (even when you have been hurt), and to be grateful for evidence of the tiniest blessing (especially if you don't feel like it)? These are victories in your heart and soul that are reliable stepping stones for a satisfying future. Live this way, and every year will be in 'The Best' bucket!
It is interesting to note that the years following the Christian Healing sermon were even more expansive, innovative, productive, healing, and victorious for Mary Baker Eddy. (Go here for timeline of achievements.) How could the years not be fulfilling, for this is how Eddy began each day:
"To-day my soul can only sing and soar. An increasing sense of God's love, omnipresence, and omnipotence enfolds me. Each day I know Him nearer, love Him more, and humbly pray to serve Him better."
* Photo Below– http://www.marybakereddylibrary.org/jthonline