Unless we have better healers, and more of this work than any other is done, our Cause will not stand and having done all stand. Demonstration is the whole of Christian Science, nothing else proves it, nothing else will save it and continue it with us. God has said this—and Christ Jesus has proved it.
Mary Baker Eddy
(From a letter dated 1903.)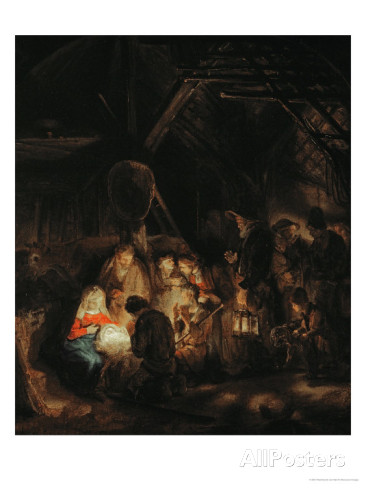 Christian Healing
By Ella W. Hoag
From the December 19, 1925 issue of the Christian Science Sentinel
* Photo – Adoration of the Shepherds, 1646
By: Rembrandt van Rijn – Courtesy of allposters.com
For nearly two thousand years Christian people have desired to prove to the world that the babe born in Bethlehem of Judea brought to mankind the gospel of salvation. Through all of Jesus' earth-life, he evidenced that this gospel was indeed the way of deliverance from both sin and disease—yes, even from death itself. As all students of religious history know, for a few hundred years after Jesus' ascension his followers continued to demonstrate this healing in some measure.
Then popularity brought weakness; houses and lands became of more concern to the Christian church and its people than the spirit which heals. From that time until Christian Science was revealed, there were comparatively few cases of the overcoming of disease through spiritual means. Even sin was more frequently held in check than obliterated; while the healing of most physical discords was unblushingly taken entirely out of God's hand and turned over to wholly material methods.
In an article entitled "The Cry of Christmas-tide" (Miscellaneous Writings, pp. 369, 370), written by Mrs. Eddy many years ago, she says, "Let the sentinels of Zion's watchtowers shout once again, 'Unto us a child is born, unto us a son is given.' " And then she goes on to say: "In different ages the divine idea assumes different forms, according to humanity's needs. In this age it assumes, more intelligently than ever before, the form of Christian healing. This is the babe we are to cherish. This is the babe that twines its loving arms about the neck of omnipotence, and calls forth infinite care from His loving heart."
To Christian Scientists there is to-day no dearer ambition than so to understand and demonstrate their unity with the divine idea that healing shall be again accomplished both speedily and completely. They know that over thirty-six years ago their Leader declared (ibid., p. 355), "Less teaching and good healing is to-day the acme of 'well done;' a healing that is not guesswork,—chronic recovery ebbing and flowing,—but instantaneous cure." And she added, "This absolute demonstration of Science must be revived." To-day, however, the temptations of materiality are assailing the ranks of Christian Science on every hand in the endeavor to delay this demonstration. Popularity, instead of Christianity, is again demanding attention. The ever recurrent call of God to His people, "Come out from among them, and be ye separate . . . and touch not the unclean thing; and I will receive you, and will be a Father unto you, and ye shall be my sons and daughters," is being looked upon in some quarters as "an hard saying." The wicked world pleads: Stay among my people! How else can you help them forward?
Now while Christian Science protects its students from all wrong influence so that they may go freely wherever God asks them to go, its teaching at the same time indicates plainly that they cannot afford to spend time and effort where spiritual growth may be hindered. Things material are crying aloud for consideration, and always doing it in the name of good. "Lest we forget," it is well to recall that our beloved Leader in marking out the path for Christian Scientists said definitely in "The People's Idea of God" (p. 1), "Every step of progress is a step more spiritual." Then if we are not advancing spiritually, we may know we are not progressing at all.
Christian Scientists always have the touchstone of spiritual healing whereby to measure their right accomplishment. Are they daily gaining a clearer and stronger sense of unity with Spirit and things spiritual? Are they continually proving a greater dominion in their own thinking and living over those personal tendencies which argue for a false selfhood in matter? As a result, are they able to heal more quickly and more perfectly? An affirmative answer to these questions alone can assure them that they are truly progressing out of the unreal into the real.
Surely at this glad Christmas time we cannot possibly do anything more acceptable to God, we cannot bring a more gracious gift to His altar, than for each and every one of us as Christian Scientists to consecrate ourselves anew to the holy work of Christian healing. Shall we not each and every one of us obey our precious Leader, and forsaking all worldliness shall we not stand as sentinels upon the watch towers, shouting again, "Unto us a child is born, unto us a son is given"? Then shall the divine idea, which has assumed the form of Christian healing in this age, be renewedly proved to be the fulfillment of the glad prophecy of the angels in the long ago, and the peace and joy which come with instantaneous healing shall be spread over all the earth.
Ella W. Hoag