These impulses of certain love — even when not put into words — compel us to reach out and help others, in direct challenge to the danger or fear or confusion we may feel. I saw this repeated over and over on the news: first-responders and individuals in the crowd rushing toward the injured in order to help. To me, these selfless and fearless individuals are guided by an unseen and powerful hand that protects and shelters while the helpers comfort, minister, carry, or simply hug. In a tiny yet forceful way, I think we find a sense of security in these acts of unconditional love we offer each other.
Virginia Harris, C.S.B.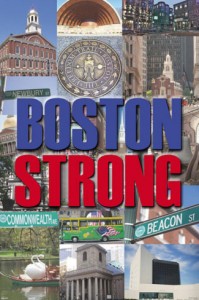 4:27
Virginia Harris, C.S.B. – Boston Strong
01st Nov 2013
*Photo – Courtesy of allposters.com
There is something so unifying in a community's devotion to a hometown baseball team…and something so uplifting in the ability for a team to unify a community in the face of tragedy. In April, shortly after the Boston Marathon bombing, Red Sox player David Ortiz went on the field before the game and addressed the Fenway crowd: "This jersey that we wear today, it doesn't say Red Sox, it says Boston…Stay strong."
So here we are in October, and it is the 2013 World Champion Red Sox. Back in April, it didn't look like Boston had much of a shot to get to the top of their division, let alone become World Champs. There were too many player changes and a new manager…a 'season to rebuild' was the theme. But after the bombing, the team had a purpose and rallied the love and support from their fans to create a collective spirit: Stay strong, stay Boston Strong.
A few days after the Boston bombing, I wrote a post about how important it is to stay spiritually firm, especially in times of trouble, to overcome adversity: A glimpse of certainty in uncertain times.
In the days and months that followed, Boston showed the world that it would not buckle to terror, but that individuals and the collective community would stand up stronger, help each other, and be healed and free of fear. The Red Sox, too, overcame the many challenges that stood in their way to reach their goal.
After the final championship game, David Ortiz – named the World Series Most Valuable Player– said that this World Championship was the most special of all three (2004, 2007) because, "We have a lot of players with heart…And when you win with that, it's special."
To me, this World Champion Red Sox team this year is especially meaningful to Boston. On Saturday, the celebratory parade will roll down Boylston Street, the final leg of the Boston Marathon, and cross the finish line – with thousands of arms raised in victory!