Happy Thanksgiving from Emergence International 2013.
We are on the right side of history and love is ever with us.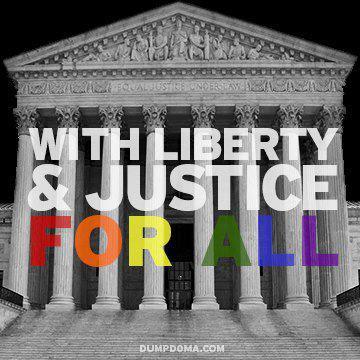 Featuring fresh takes and real-time analysis from HuffPost's signature lineup of contributors
HOT ON THE BLOG
Founder and Operations Director, The Pride Network
Posted November 26, 2013 | 4:08 PM
As we gather around the table for a Thanksgiving dinner or volunteer at a local community center, let's all take a second to be thankful for the victories that our community has seen recently. I stopped the list at 10, but I know there are plenty of reasons, and I'd love to hear them. Share why you're thankful this Thanksgiving in the comments below.
10. President Obama awarding Bayard Rustin and Sally Ride with the Presidential Medal of Freedom: Tam O'Shaughnessy and Walter Naegle accepted the Presidential Medal of Freedom on behalf of their deceased same-sex partners.
9. The U.S. Senate voting to pass the Employment Non-Discrimination Act (ENDA) for the first time in the legislation's two-decade history: The final vote was 64-32, with 10 Republicans standing on the right side of history.
8. The National Organization for Marriage (an anti-gay-marriage group) ending the year with a $2 million deficit: Maybe they'll get the message that it's time to stop.
7. This "Ask Amy" column where Amy Dickinson gives a homophobic parent the best advice regarding a gay son: Get your tissues.
6. Fifty-four openly gay political candidates winning their elections: Fifty-four of the 85 candidates that the Victory Fund endorsed in 2013 won their respective elections.
5. The Social Security Administration modernizing its gender-change policy for trans people: It's about time!
4. Celebrities and athletes coming out of the closet and being positive LGBT role models: Wentworth Miller, Raven-Symoné, Robbie Rogers, Jason Collins, Ben Whishaw and Darren Young, just to name a few…
3. The Supreme Court striking down a key section of the Defense of Marriage Act (DOMA): It was a provision that President Obama had previously declared unconstitutional and refused to defend.
2. Having a strong LGBT presence at the 50th anniversary of the Civil Rights March on Washington: Out LGBT speakers such as Sharon Lettman-Hicks from the National Black Justice Coalition; Eliza Byard from the Gay, Lesbian & Straight Education Network (GLSEN); Donna Payne from the Human Rights Campaign; Alan van Capelle from Bend the Arc: A Jewish Partnership for Justice; and many more advocated for LGBT equality on stage. They were also joined by dozens of straight allies.
1. Marriage equality victories this past year: Maryland, Rhode Island, Delaware, Minnesota, New Jersey, Hawaii, and Illinois!
Share in the comments below why you're happy this Thanksgiving!
All images in this blog post are either used with permission or under creative commons, free to copy, distribute and transmit.