"Jesus beheld in Science the perfect man, who appeared to him where sinning mortal man appears to mortals.  In this perfect man the Saviour saw God's own likeness, and this correct view of man healed the sick" 
Science and Health with Key to the Scriptures (pps. 476-477).
"In my earliest days on the streets, on a night when several disturbing-looking people ran up to me, I pulled myself together and thought, If Jesus came to me looking like this man, would I run? Or would I stand right where I am, face him, and embrace him? I forced myself to see Jesus in him every time I saw someone who scared me, and eventually I felt blessed, not frightened.  And the people who seemed so upsetting to me melted into kind people, who welcomed us into their world.  That vision worked for me."
Danielle Steel
A Gift of Hope
Helping The Homeless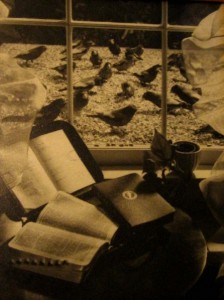 5:54
God's Grace
By Edith H. Carnes
From the November 15, 1952 issue of the Christian Science Sentinel
* Photo – The morning meal story 
God's grace as sunshine is upon the earth today
That bringeth forth the bud unto the perfect flower.
So gracious Love dispels the mist of pain and sin,
Revealing man as held forever in His power.
It is that gentleness which seeks another's good,
The spoken Word that liberates from doubt and fear;
It is the faith that recognizes things unseen
And sees God's perfect man and universe appear.
Edith H. Carnes