"I love the whole human family and have labored to bless ALL, not a clan, but ALL. I am abrupt, but honest in what I say to all. But behind this is my universal and deathless love for every one of the human family."
Mary Baker Eddy
(Letter to Mrs. Swarts, 1885)
"Thoughts unspoken are not unknown to the divine Mind. Desire is prayer; and no loss can occur from trusting God with our desires, that they may be moulded and exalted before they take form in words and in deeds."
Science and Health with Key to the Scriptures
"Don't believe the word No."
Cher
 5:44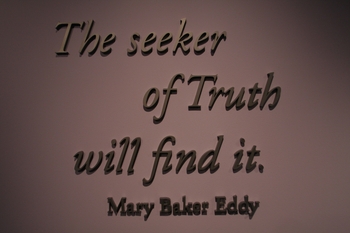 My heart's desire is that the time be not far…
By MARY BAKER EDDY
From the September 1936 issue of The Christian Science Journal
From a letter dated 1898.
My heart's desire and prayer is that the time be not far distant when all mankind will have one God, be of one mind, and the brotherhood of man be established throughout the earth.
MARY BAKER EDDY
Copyright, 1936, Trustees under the Will of Mary Baker G. Eddy. Used by permission.