I am a firm believer that personal stories have the power to open hearts and minds.  I'm tremendously grateful to GLAAD for helping share my story and spread the film's message: love is love. 
Our hope is that "Bridegroom" will inspire people to live their lives honestly, to fall in love deeply, and to fight for the rights of people who are being treated like second class citizens.  I hope that the film helps parents love their children unconditionally and helps anyone struggling with their identity to embrace who they are and to live a life free of shame. 
No little boy or girl lies in bed at night dreaming of wearing a handsome tuxedo or a beautiful white dress during a domestic partnership ceremony. The dream, if he or she wants it, is to get married. 
We have a long road ahead of us until we will have marriage equality across the entire nation, but hopefully "Bridegroom" can help us achieve our goal a little faster as we go state by state. It's too late for my partner Tom and I to get married but it's not too late for America to live up to its symbol of freedom. There is no freedom until we are equal.
Love is love. Loss is loss and at the end of the day we are all human and we all just want to be happy and treated equally.
Shane Bitney Crone, producer/subject of the documentary film "Bridegroom"
http://www.glaad.org/blog/linda-bloodworth-thomason-talks-glaad-about-bridegroom-designing-women-and-using-tv-social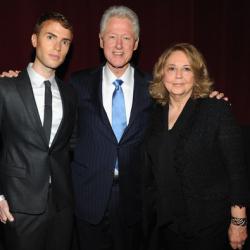 2:25
by OWN TV
2 weeks ago
6,938 views
This Sunday, October 27, OWN: Oprah Winfrey Network will present a special night of programming about being gay in America, beginning at 9 p.m. ET/PT with "Oprah's Next Chapter: Gay Hollywood" followed by the world television premiere of the acclaimed documentary film "Bridegroom" at 10 p.m. ET/PT.
Impartial Love
By Esther M. Scheck Peterson
From the March 11, 1967 issue of the Christian Science Sentinel
What is love?
Love is not mere personal affection for some,
and rejection of those we don't choose
to embrace;
True love is
the irresistible desire to bless
all—yes, the entire, the whole
human race.
"God is love,"
the Scriptures say; and He made man, His child,
that way, reflecting freely Love's
boundless grace.
A gracious,
Godlike man knows he can and does embrace
impartially all mankind—in
every place.
Esther M. Scheck Peterson