Rob…the timing of reading YOUR story couldn't have been more perfect for me. Just got off the phone with a reporter asking what we thought of reparative therapy, and I told her JUST what you said…I could have copied your words. Thank you for sharing…you've encouraged me GREATLY to continue to speak up…even when others don't like it.
Post author –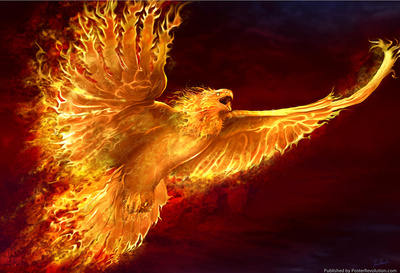 Phoenix Rising (courtesy of allposters.com) is  a long-lived bird that is cyclically regenerated or reborn. Associated with the sun, a phoenix obtains new life by arising from the ashes of its predecessor. The phoenix was subsequently adopted as a symbol in Early Christianity.
 2:11
by ryy79
4 years ago
1,545,040 views
Hope and Redemption
by Rob Scott – Chicago, IL
I wanted to thank you for sharing your story with everyone to prevent this from happening again to other LGBT children. 
As a gay man I can tell you the greatest burden I faced was family and religious rejection throughout my life. I have made peace with God but have no contact with my family today and have not for years. I can tell you the result has taken a toll on my mental health as I have faced despair, addiction, and even a suicide attempt in college.
I had to listen to the person whom I loved more than anything in the world (my mother) ridicule gay people or anyone she perceived to be gay during my developmental years in high school. I was terrified she would find out I was gay and I had to suffer in silence.
Later, as I struggled with God, I felt I had to throw my sexuality in the garbage can as there was no room to be gay and be loved by God as the messages supporting this are everywhere. What was the result of this thinking on me??? It literally threw me into alcohol and sex addiction. The thought was I'll just have sex one last time and then never do it again and devote my life to God. This thought fueled my addiction. Why??? Because like your son Ryan I loved God the most. And I felt unworthy of being loved by God for being gay. The alcohol helped temporarily with the guilt and shame. But being gay never went away. I was slowly destroying myself for something I could not change. Like Ryan some bad things happened to me during the height of addiction. I'll bet these destructive thoughts that were in my head were the exact thoughts that fueled your sons addiction and countless others who are going through the same thing.
As the Chair of the Department of Psychiatry once told me "we don't have a pill for Hope". I responded that faith and spirituality is Hope that is alive and healing. But not for so many LGBT people for the eaxct reason it threw your son and myself into addiction. God is perfect but those preaching in His name are not so perfect.
No, I don't condemn you. I forgive you and hope you forgive yourself. You are so much more powerful being a force for good by sharing your story and the numerous articles telling parents to love their gay children. I hope to God they are listening. 
It is my turn to forgive my mother and the people hiding behind the symbol of a cross. But most of all I need to forgive myself. 
Ohhhh. If I just could do over again with what I know now and love myself regardless of being gay and know that God loves me unconditionally it would have saved me so much heart ache and pain. Perhaps I can join you in sharing these stories so that those coming behind us are spared the wake of destruction that family and religious rejection leaves behind on LGBT children and adults.
One thing I have found that is healing in all this is to blog not only to share our stories to save lives but perhaps to share ideas that are comforting and healing to those left out in the darkness so they can find their way out through unconditional love from God and family.
This is for all those who never had a voice. This is for all those suffering in silence.
"To all the gay and lesbian kids out there tonight who have been told that they are less than by their churches, by the government or by their families, you are beautiful, wonderful creatures of value.  And that no matter what anyone tells you ,God does love you, and that very soon I promise you that you will have equal rights federally across this great nation of ours."
We are on the right side of history and love is ever with us.
Truth, Wisdom, Love and Sincerity, to ALL mankind.
** Linda Robertson lives with her husband of 30 years, Rob, in a suburb of Seattle, Wash., where they enjoy long bike rides, lots of Starbucks coffee and a thriving, involved community that cares about making a real difference in the world. In 2009, after the death of their son Ryan, she retired from her position as a website administrator in order to have the time to learn how to grieve well, and to walk alongside their three young adult children in their own process. She leads the Local HIV/AIDS Outreach Team at Overlake Christian Church and volunteers regularly at RoseHedge MultiFaith Works in the Capitol Hill area of Seattle. Linda's passion and prayer is that Ryan's life and death will matter –- and that the mistakes she made, as a conservative evangelical mom with a young gay son, will serve to help someone else learn to really love their children, just because they breathe… and before they no longer do so.