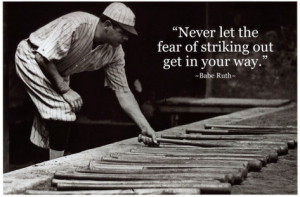 TRIUMPHING OVER TIMIDITY
LA RUE M. MURRAY
From the August 9, 1947 issue of the Christian Science Sentinel
* Photo – Courtesy of allposters.com
All who have wrestled with and through Christian Science obtained the victory over the enslaving beliefs of inferiority, timidity, self-consciousness, and constant fear of failure can appreciate the might and efficacy of the divine Mind in the overcoming of these weaknesses of the so-called human mind. They value the strength, joy, and freedom that such overcoming brings.
In "Science and Health with Key to the Scriptures" Mary Baker Eddy writes ( p. 483), "One must fulfill one's mission without timidity or dissimulation, for to be well done, the work must be done unselfishly." The realization and demonstration of the truth in these lines opened up a fuller and richer life for a young woman who, until she began the sincere study of Christian Science, had struggled long and unsuccessfully to master the claims of self-consciousness and timidity. So overwhelming seemed these arguments that whenever there appeared a possibility that it would be necessary to voice an opinion, even in a small group, she would hastily leave the room to avoid being called upon to speak.
However, as this student advanced in her study of the truths of Christian Science, she learned to claim and to utilize in a practical way the poise and stability which result from an unreserved acknowledgment of God's omnipotence and omnipresence and of man's right, privilege, and ability to express, through reflection, the divine power and dominion. The student also gained a truer sense of spiritual values, learned how to discriminate between the real and essential and the unreal and unessential; indeed, how to minimize error, or evil, to the point of extinction through the spiritual and wholly logical understanding that God did not make it, does not know it, and therefore His child could not honor its pretense to power and prestige. Step by step she gained dominion over the sense of limitation and frustration, and her desire to be active and useful is being realized in ever-increasing and more satisfying measure.
The manifesting of courage, assurance, and alertness must not be confused with a display of pompous self-importance and personal prowess. The Christian Scientist knows and demonstrates that man reflects the infinite capacities of Mind. He gives God the glory for his every success and achievement, while declaring with the Apostle Paul ( Phil. 4:13), "I can do all things through Christ which strengtheneth me."
We may and should think highly of the man of God's creating, the only man there really is, and often ponder the inspiring statement from Science and Health wherein our Leader avers ( p. 258), "God expresses in man the infinite idea forever developing itself, broadening and rising higher and higher from a boundless basis." Here is no reason for timidity, backwardness, or inability, but rather for the expression of God-derived dominion and unlimited capabilities. Man, the offspring of Love, radiates infinite loveliness; Mind's idea expresses the brilliance of unerring intelligence; Soul's representative is ever joyous and harmonious; Spirit's manifestation is untainted and untouched by materiality; Truth's witness is infallible and unafraid; Life's likeness is vibrant with health and happiness; Principle's expression is forever courageous and calm, unvaryingly governed by divine law.
Freed by unselfed love from the blinding beliefs and impositions of inferiority or superiority—for, actually, these unlovely traits stem from the same error, that of allowing one's thoughts constantly to center on a false sense of self—the earnest student is equipped to serve in ever wider and grander fields of endeavor, always according all might and causation to his Father-Mother Mind and reflecting the strength and dominion of Mind in ever-increasing measure.
Christ Jesus' life is a shining example of combined meekness and unsurpassed spiritual strength. He who tenderly took little children into his arms and blessed them was also firm and fearless in never withholding, when it was needed, the stern condemnation of hypocritical creeds and codes. On one occasion he delivered this ringing admonition (Matt. 23:25, 26): "Woeunto you, scribes and Pharisees, hypocrites! for ye make clean the outside of the cup and of the platter, but within they are full of extortion and excess…. Cleanse first that which is within the cup and platter, that the outside of them may be clean also."
Similarly, in our own time, Mrs. Eddy reflected the same gentleness and love as did the Master and emulated his unfaltering courage in meeting and overcoming the attacks of suppositional evil.
Mrs. Eddy's coupling of timidity with dissimulation in the passage from Science and Health quoted at the beginning of this article throws an interesting sidelight on this subject. A dictionary defines "dissimulate" in part as "to hide under false appearance or by false pretense." Does this not point out the folk of cloaking timidity under the garb of false modesty and unworthiness, instead of rooting out the cleverly disguised motive of undue consciousness of material self and sense?
The putting aside of all thought of material selfhood to serve humbly and wholeheartedly the cause of righteousness always results in the progressive overcoming of mortal mind's limiting arguments of inadequacy and self-consciousness. When self-forgetfulness and the yearning to do right outweigh the dread of criticism or unfavorable comment, then the shackles of timidity, lack of poise, anxiety, and incompetency will cease to bind us or keep us from urgent tasks requiring dignity, courage, and confidence.
If negative suggestions of fear and lack of ability to express ourselves with clarity and assurance should tempt us to remain in our seats at the Wednesday testimony meetings, when we long to share with others the fruitage of our prayers and labors, let us claim and cling to the holy purpose to express unselfed love and self-forgetfulness. Such prayerful striving to obey God and to love our fellow man will dissolve the adamant beliefs of self-centeredness, egotism, and fear of failure, and will thus establish peace, courage, and joyful confidence.
Referring to the mission of the Christ, Truth, to bring victory and spiritual strength to every timid heart, a loved hymn states:
"He comes to give thee joy for desolation,
Beauty for ashes of the vanished years;
For every tear to bring full compensation,
To give thee confidence for all thy fears.
"He comes to call the dumb to joyful singing;
The deaf to hear; the blinded eyes to see;
The glorious tidings of salvation bringing.
O captive, rise, thy Saviour comes to thee."
This glorious message of freedom and spiritual liberation is for all. St. Paul declared ( I Tim. 2:3, 4), "For this is good and acceptable in the sight of God our Saviour; who will have all men to be saved, and to come unto the knowledge of the truth."