UN High Commissioner for Human Rights Navi Pillay talks about the human cost of homophobia and transphobia.  Around the world, people are arrested, attacked, tortured and killed, just because of who they are or whom they love.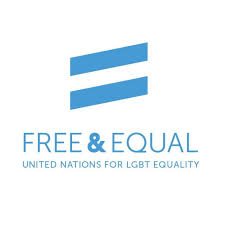 2:34
Prayer digs out discrimination's roots
DAVID L. DEGLER
From the May 1981 issue of The Christian Science Journal
Prayer can heal discrimination based on age, sex, race, nationality, or any other factor.
For instance, a woman yearned to participate in a community organization but was unable to because no others of her race were members. At public meetings of this organization, she was required to use a side or back door and to sit in an area cordoned off especially for those of her race. A student of Christian Science, she knew she needed to understand more deeply that the liberating power of divine Love is supreme.
This individual's experience is similar to challenges that many people face today. We may be discriminated against by being deprived of a job opportunity because of age. Or we may be excluded from a social gathering because of nationality. In fact, we may be both the one discriminated against and the discriminator. One moment we may be excluded from a meeting because of our sex; the next minute we realize that we are avoiding another person because of his religion.
What can we do? Through prayer we can dissolve from thought the false picture of man as mortal and replace it with the truth that man is the child of God.
We may be genuinely concerned about the activities of organizations whose stated purpose is to spread hatred and to instigate violence against a race or nationality. By relying confidently on the allness of divine Love, we will be able to behold and demonstrate the powerlessness of aggressive and malicious human hate.
To foster freedom for mankind as well as oneself, it is important to develop spiritual discernment that will enable us to detect prejudice no matter how subtly it is hidden in thought. Through prayer we can prevent discrimination from becoming a barrier to our freedom or being a discordant factor in our relationships. Thereby we glorify God, Spirit, and foster peace among individuals and, ultimately, among nations.
Christian Science healing is founded on the truth that man is incorporeal and perfect; prejudice is founded on the opposite belief that man is mortal and imperfect. Accepting the true nature of man as the reflection of God is essential for healing. If we are aiming to demonstrate the truth of perfect God and perfect man in our lives, we cannot simultaneously view another as mortal and treat him with disrespect and disdain. Otherwise, our thinking would conflict with our prayers, and our ability to reason correctly from a spiritual basis would be dulled. Then, healing could be delayed.
Animal magnetism—the term used in Christian Science to describe the destructive nature of mortal mind—would use prejudice and discrimination to divide peoples. A principal argument of animal magnetism is that man is mortal. On this view, error bases its depiction of the world as composed of mortals of various ages, religions, nationalities, sexes, races. It would then go on to insinuate that these mortals have differing levels of physical and mental capacity, of social acceptability. Every claim of prejudice is based on the fundamental belief of man's materiality. But God is Spirit; He does not create a mortal man with material, fallible identity or capacity. Animal magnetism and its claims of division are dissolved through scientific prayer and Christian living that establish the powerlessness of evil and the allness of God, Love.
How can our prayer remove prejudice and discrimination either against ourselves or others?
We can recognize prejudice as a false claim of animal magnetism and reject it wholeheartedly. Evil is not a power, a presence, or an intelligence. Evil is a mistake or delusion; it cannot originate or perpetuate false beliefs about man. We live this prayer by refusing to be influenced by hatred or prejudice.
Christianity gives a deeply spiritual basis for dissolving prejudice. The nature of God as Spirit and Love permeates the Scriptures. The fatherhood of God and the true brotherhood of man are irrefutable scientific facts. The inspired writer in Malachi says: "Have we not all one father? hath not one God created us?" 1 This brotherhood is the fact that eliminates discrimination. Christ Jesus taught the individual worth and spiritual brotherhood of man. The Apostle Paul reiterated Jesus' teachings: "For there is no difference between the Jew and the Greek: for the same Lord over all is rich unto all that call upon him."2
Mrs. Eddy's writings emphasize the allness of divine Love as the basis for man's identity and brotherhood. She writes in Science and Health, "Identity is the reflection of Spirit, the reflection in multifarious forms of the living Principle, Love."3 This spiritual identity of man along with the perfect fatherhood of God, realized, heals prejudice.
In reality, man can be conscious only of love, of God's love for man and of man's unity with God. Love and unity are scientific facts that cannot be set aside by the false mortal picture of material circumstances, prejudice, or hatred.
Man as the reflection of divine Mind is never unworthy or unlovable. In God's universe there is no discrimination. Man is never hated or restricted. Nothing can prevent man from seeing his own spiritual identity, value, and unrestricted liberty as a child of God. Man is never limited by circumstances or by what a so-called mortal mind would think of him. No element of mortality can rob one of his own unique place in God's universe. No one can deprive another of what God gives him. As God's idea, man is always expressing love; understanding this makes one's relationships more harmonious. These same truths, when applied to physical ills, heal.
As we understand that God, Love, is All-in-all and that man is spiritual and hold firmly to this, hatred is rendered powerless. Mrs. Eddy writes: "Human hate has no legitimate mandate and no kingdom. Love is enthroned."4 Spiritualization of thought results in more individual love and brotherhood. This change helps to prove that hatred has no power or mandate even if it seems to operate in an organized form.
The woman mentioned earlier prayed in this way when she studied the Bible and Science and Health. As a small child, she had been taught to hate members of the race that now seemed to be discriminating against her. Her study of Christian Science taught her to look beyond the facade of matter. She began to see more clearly the incorporeal identity of man as God's child and to love this real man.
Through steady growth she realized she could attend this organization's meetings and express the love of God to all, including those who would not accept her. She had pondered the reality and power of the statement in Science and Health, "Love is the liberator."5 She recognized that she could express love and trust God, Love. Gaining a firmer conviction of the eternal, Christly nature of man, she learned the nothingness of hatred and racism. She did not try to direct anyone or outline what would happen next, but she knew that divine Love governs all. She began to attend the public meetings with the single purpose of expressing love to others, knowing that Love always blesses.
One day when an usher pointed to the seats cordoned off for her race, she was able to say "Thank you!" with a heart full of genuine love. Shortly after that, some others who were not required to sit in that section joined her. Eventually, the restricted seating arrangement was abandoned completely. A few years later, the lady joined the organization as a member equal with all others. She had proved that love and spiritualization of thought liberate. All can prove this, no matter what the challenge of prejudice and discrimination may be.