"While I was looking forward to sharing a message of hope and Christ's UNCONDITIONAL LOVE with the faithful members of the historic First Baptist Church of Dallas in April, due to new information that has been brought to my attention, I have decided to CANCEL my upcoming appearance. I will continue to use the platform God has blessed me with to bring Faith, Hope and Love to ALL those needing a brighter day. Thank you for all of your love and support. God Bless!"  
Tim Tebow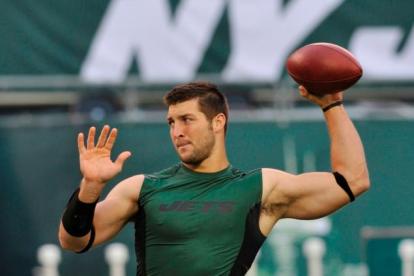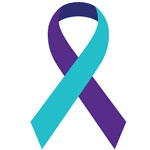 TIM TEBOW DECIDES NOT TO VISIT CONTROVERSIAL CHURCH
Thursday, February 21, 2013 – 12:58pm by Elliott Moore, Sports Intern at GLAAD
New York Jets quarterback Tim Tebow has decided not to speak on April 28th trip at First Baptist Church of Dallas, a mega-church headed by a notoriously anti-gay pastor, which claims over 11,000 members and is funding the construction of a $130 million dollar complex in downtown Dallas. In response to the heavy media attention surrounding the proposed visit to First Baptist Church of Dallas, Tebow released a series of tweets rescinding his decision to visit the church. Tebow stated that:
"While I was looking forward to sharing a message of hope and Christ's unconditional love with the faithful members of the historic First Baptist Church of Dallas in April, due to new information that has been brought to my attention, I have decided to cancel my upcoming appearance. I will continue to use the platform God has blessed me with to bring Faith, Hope and Love to ALL those needing a brighter day. Thank you for all of your love and support. God Bless!"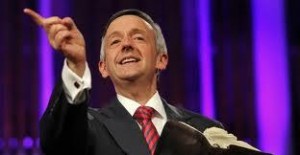 Beware of false prophets, which come to you in sheep's clothing, but inwardly they are ravening wolves.
Matthew 7:15
The church has come into national attention after the hiring of Pastor Robert Jeffress who has sparked controversy since coming to First Baptist Church of Dallas back in 2007. Among his comments about the unethical nature of Islam and Judaism, Jeffress has also garnered attention for his offensive anti-LGBT rhetoric. In 2009 Jeffress conducted a sermon entitled "Why Gay is Not OK", in which the pastor claimed that Jesus condemned homosexualityn. Nevertheless, the sermon drew many protestors who claimed that not all Christians were willing to support Jeffress's agenda. However, Robert Jeffress has gone even further in his claims that LGBT people are unnatural or immoral by fallaciously stating that 70% of gay people have AIDS. Additionally, the controversial pastor has said that being LGBT leads to pedophilia and to a "miserable lifestyle" of depression, alcoholism, and suicide
AFSP Review and Recommendations on LGBT Suicide and Suicide Risk
Key Findings and Recommendations
A panel of 26 leading researchers, clinicians, educators and policy experts, assembled by American Foundation for Suicide Prevention, has released a comprehensive report on the prevalence and underlying causes of suicidal behavior in lesbian, gay, bisexual and transgender adolescents and adults.
The report appeared as the lead article in the January 2011 issue of the Journal of Homosexuality, published by Taylor & Francis, a leading publisher of academic journals. As of September 2011, it was the 18th most downloaded article in any of the publisher's several hundred journals.
Key Findings and Recommendations
Although multiple studies point to elevated rates of depression, anxiety and substance abuse among sexual minority people, the panel found that these problems, by themselves, do not account for the higher rates of suicide attempts that have been reported by LGBT people. Thus, the consensus report identified stigma and discrimination as playing a key role, especially acts such as rejection or abuse by family members or peers, bullying and harassment, denunciation from religious communities and individual discrimination. The report also highlighted evidence that discriminatory laws and public policies have a profound negative impact on the mental health of gay adults.
AFSP Review and Recommendations on LGBT Suicide and Suicide Risk
LOVE IS THE CURE
ON LIFE, LOSS, AND THE END OF AIDS
by Elton John
When AIDS is an uncomfortable and untouchable subject, the disease spreads.  But when we bring it to the fore, when we aren't afraid to confront it, information spreads.  Compassion spreads.  The cure spreads.  Please, help me spread the cure.
It comes down to a simple equation, really.  If you give love out, you get love back.  If you take nothing else from the stories I've told here, please take that lesson to heart.  It is the only thing that matters.  It is why we need a global movement for love, and not just when it comes to AIDS.  We need to love the poor, we need to love the sick, and we need to love those who we perceive as different.  If love guides our actions, we can end AIDS.  If love drives our actions, we can build a better world.
http://www.csmonitor.com/Books/2012/0725/Elton-John-5-stories-from-his-