You are not alone.
Love is with you
watching tenderly over you
by day and night,
And this Love will not leave you
but will sustain you
and remember all thy tears,
and will answer your prayers.
Mary Baker Eddy
From the Mary Baker Eddy Collection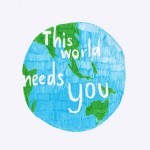 7:45
by ThePlaceinModesto•5 days ago•21,231 views
An LGBTQ youth support group known as The Place in Modesto, Calif. recently released a video that will have you smiling, tearing up and even laughing at times.
Via The Huffington Post
5 Tips for Bullied LGBTQ Youth
Over the last few days, you may have heard about a gay teenager who attempted to commit suicide because he was bullied relentlessly.  At only 15-years-old, Jadin Bell of La Grande, Oregon has been taken off life support and is in critical condition after he hung himself at the playground of Central Elementary School.  Jadin's family describe his tormenting as anti-gay bullying.
Bud Hill, a close family friend, who Jadin refers to as his uncle, said he believes Jadin was pushed to suicide after being bullied in person and on the Internet because he is gay.
"He was different, and they tend to pick on the different ones," Hill told KATU-TV.
Hearing about a teenager committing suicide because of anti-gay bullying is not an uncommon thing; Eric James Borges, Kenneth Weishuhn Jr., Jack Reese, Josh Pacheco, and Brandon Elizares are just a few of our LGBT youth who died in 2012 because they were bullied for their sexuality.   This is just a reminder that we still have so much hate to overcome.    If you are gay and struggling because of anti-gay bullying, please continue to read.  David Andrade Pimienta, a gay teen, has five valuable pieces of advice for the bullied LGBTQ youth:
1.  Don't back down. It is a cliché, but I mean it. There will be times when life may be dark, when even the sun lacks its brightness, and all will feel cruel and hopeless. I have been there, and I have done everything in my power to never return to that state of emotion. Find someone to lean on; there has to be someone out there you can find to support you and your life. If there's no one in real life, then there are plenty of forums and websites where trustworthy people are available to talk to… you can even trust me. But please, do not give up on life. Your life is too precious to lose; if I had known life would be so good five years ago, I would have gone through high school like a champion, but life wasn't meant to be that easy, as we must mature and learn through our own battles that we can naturally conquer. You will find your bastion of hope. This world is not that bad; I assure you that there is a place where you can celebrate and sing your identity among others who love you.
2.  Find your support network, and keep it. Friends will be everything to you in these hard times of bullying; friends can be anybody you can trust, such as family, teachers, and even your dentist.
3.  Pursue an education. Yes, some of us might not be good at math or writing, but we all have our strengths and weakness when it comes to the world of academia. Hone in on your strengths, and go to college, and work toward a career. Major in a field that you are willing to dedicate your life to (it is not easy to choose which major to study, but you will get there). Make your education and your college life fun, but do not be careless. A good education is a good life; stray away from it and you will regret it in the long run.
4.  Follow your passions. Aside from academics, find something you personally love to do or think you would love to do. This could be something like cooking, fashion design, painting, writing, or even running. For example, since middle school I have always wanted to dance, and in college I was given the chance to do just that. Ever since I started dancing, I have been so happy, and I long to improve and learn more. Doing what you love really keeps your mind focused on something you know will make you happy. And happiness is always welcome, right?
5.  Do not be afraid to ask for help. Sometimes you may think you can solve issues like bullying on your own, but it is best to seek help when you need it.
Source: huffingtonpost.com and katu.com