I will not leave you comfortless: I will come to you.
John 14:18
  In the words of St. John: "He shall give you another Comforter, that he may abide with you forever."  This comforter I understand to be Divine Science.
Mary Baker Eddy
  Science and Health  55:27
Shining light on loneliness
* Photo from www.allposters.com with permission
A Christian Science perspective on daily life.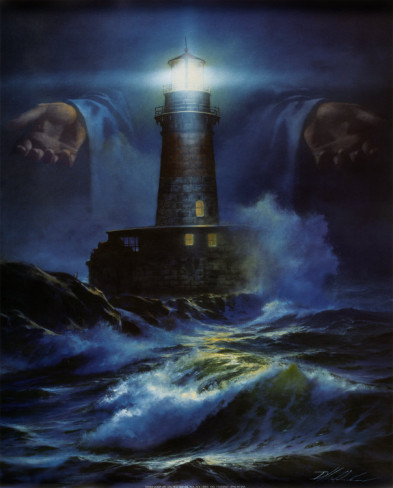 Danny Hahlbohm is one of the most recognized contemporary creators of Christian inspirational art. Born in New York City, he completed his military service before pursuing a painting career. As his spiritually iconic artwork began to appear in galleries and auctions around the world, his reputation grew. Believed to now be in millions of homes throughout the world, his body of work also includes nautical scenes, which have a strong sense of realism, power and emotion, likely inspired by his own sailing experiences near his home in Florida.
Social isolation sometimes results in loneliness irrespective of one's age, cultural background, or socioeconomic status. But God –compassionate and always there – can help us overcome acute or chronic loneliness when we listen for His guidance in humble prayer.
This doesn't mean that we never have to include people and activities in our life again. In fact, it's quite the opposite. Praying to understand that each of us has an inseparable relationship with Love – that each one of us is the child of Love – opens our whole being to see that this same Love is the source of all relationships, sharing, and harmony with others.
Mary Baker Eddy, who discovered and founded Christian Science, confronted many of the problems any human being could face in her heartfelt search for Truth. She was well acquainted with loneliness, and had to learn to gain an unequivocal reliance on God for her comfort, security, and well-being. In her major work, "Science and Health with Key to the Scriptures," she wrote, "Would existence without personal friends be to you a blank?" (p. 266). She answered, in part, "… this seeming vacuum is already filled with divine Love."
Science and Health throws spiritual light on the word "wilderness," describing it as: "Loneliness; doubt; darkness. Spontaneity of thought and idea; the vestibule in which a material sense of things disappears, and spiritual sense unfolds the great facts of existence" (p. 597).
The right note always corrects the wrong tone of a melody. In the same way, prayer reveals our closeness to God, which prevents feelings of loneliness and separation from hiding the harmony of life.
To read the article in its entirety click on the link below: