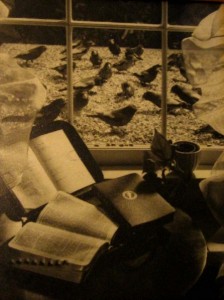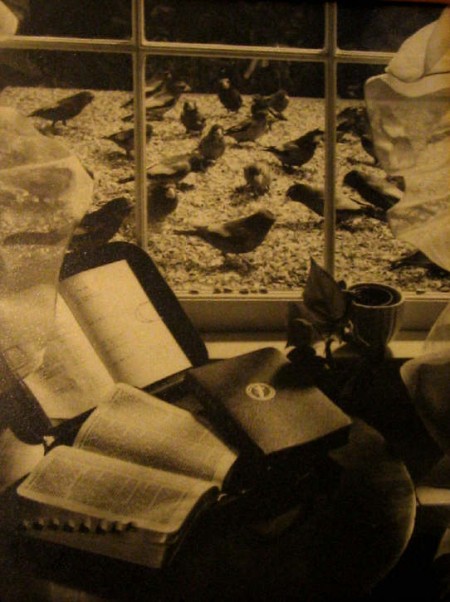 By Dave Horn, former Indiana Committee on Publication from Raleigh, North Carolina
– from the official blog of the Committee on Publication for Indiana.
Sometimes Committees on Publication and their helpers are quickly successful correcting impositions on public thought about Christian Science. But sometimes an equal amount of effort seems to bear no fruit at all. When this happens, I found it helpful to examine the purpose behind each endeavor. What is my focus?
George Philip Sauter asked the same question back in 1952.  He was a well-known photographer in scenic Glens Falls, New York. Several of his "mural" photos are still on display at the local historical museum.
For almost two years, he tried in vain to photograph birds outside his window, for a snapshot to be used on a book cover. At first, only a few birds were drawn to the seeds, but eventually a flock of more than 100 evening grosbeaks landed in his yard. Yet none of the photos he took of them seemed satisfactory, and the flock migrated away.
In early 1952, as the grosbeaks returned, he re-considered his purpose for the picture. He changed the focus from birds eating seeds to the Pastor of Christian Science — The Bible, and Science and Health by Mary Baker Eddy. He placed these books near the window, with the Quarterly open to the Bible Lesson on "Love." He carefully arranged the curtain and lighting, hoping to create "the soft, subtle light of a new day." Again, hundreds of exposures were made, and on February 2, 1952, the attached picture was snapped. George named it "The Morning Meal" and advertised it in the Monitor. Within a few years, it could be seen on the walls of a Christian Science Reading Rooms and practitioner's offices from coast to coast.
George learned a successful photo, like successful Committee work, must focus on our Pastor, and let everything else be secondary.